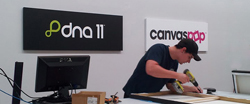 "We're a David in an industry full of Goliaths, ultimately our rapid growth is coming from the fact that we are always pushing the envelope of innovation while focusing on delivering a world-class customer experience."
-- Adrian Salamunovic
Las Vegas, NV (PRWEB) September 22, 2011
The city that never sleeps has drawn North America's fastest growing and, arguably, most innovative company in the photo and canvas printing industry to Las Vegas.
DNA 11, the original creator of DNA art, has seen extreme growth year-over-year since it began 6 years ago. After the launch of sister company CanvasPop, which specializes in printing photos on canvas, it was evident the company would need to expand in order to meet increasing production demands.
"Initially, we brought production in-house to control quality for our customers," said Nazim Ahmed, co-founder DNA 11/CanvasPop. "With our clients at top-of-mind again, the new facility will accommodate quicker production and faster shipping times."
Already having a facility on the east coast in Ottawa, Ontario, Canada's capital, it was clear a move into the western continental U.S. was necessary. An abundance of highly talented printing professionals in need of work due to the slumping U.S. economy made Las Vegas a strong contender. Pairing that with the high energy that radiates off the city, it was a perfect match for the company's brand identity.
With growth rates approaching 300%, the company was bursting at the seams. This new state-of-the-art facility combined with a rapid hiring spree will help CanvasPop/DNA 11 compete and win in a highly competitive industry with major players such as Cafe Press, Shutterfly and Art.com.
"We're a David in an industry full of Goliaths, ultimately our rapid growth is coming from the fact that we are always pushing the envelope of innovation while focusing on delivering a world-class customer experience." said Adrian Salamunovic, co-founder DNA 11/CanvasPop.
Nevada Governor Brian Sandoval will be recognizing DNA 11 and CanvasPop's facility opening at a luncheon at the Bellagio on November 17, 2011. This is an exclusive event to show appreciation to businesses that have expanded into the state.
"Having DNA 11 and CanvasPop expand into Southern Nevada is great news for our state and economic diversification efforts," said Somer Hollingsworth, CEO and president of the Nevada Development Authority. "We feel that it is important to highlight companies that are willing to create jobs and invest in the future of our community."
About DNA 11
DNA 11 is the original creator of DNA Art – the world's most personal form of art that combines design, technology, science and pop culture. DNA 11 creates contemporary custom portraits from DNA, fingerprints and lip prints. Each modern art piece is as unique as the person purchasing it. These one-of-a-kind art pieces can be found in the Museum of Modern Art (MoMA) stores, have been featured in an episode of CSI: New York and can be found in thousands of homes around the globe. Most recently, DNA 11 changed the industry again with the launch of DNA 11 Ancestry Portrait which visualizes maternal lineage in a custom piece of augmented art. For more information visit http://www.dna11.com.
About CanvasPop
CanvasPop is the web's most innovative provider of custom, high-quality canvas printing services. CanvasPop empowers photographers, digital artists, interior designers and everyday customers to print their images on high quality canvas. CanvasPop allows anyone to print any image, including Facebook and iPhone pictures, at virtually any size regardless of the original resolution of the image. CanvasPop's goal is to provide both consumers and professionals with the easiest way to print any image on canvas. CanvasPop has printing and distribution facilities in the United States and Canada. CanvasPop is a DNA 11 company. For more information please visit http://www.canvaspop.com.
# # #