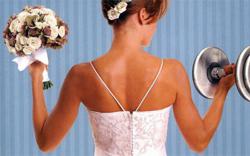 It's a dress for a day, but a body for a lifetime. The Bridal Body Shop helps brides feel their personal best and make fitness a lifestyle.
New York, NY (PRWEB) September 22, 2011
Because attention to detail, time and budget are paramount when getting ready for the big day, "The Bridal Body Shop" has made it even easier for brides to get into shape for their wedding with "Virtual Training."
Created by Physical Advantage PC, New York's highly publicized sports massage studio, "The Bridal Body Shop" has brought workouts to the homes of brides to be who wish to be as fit, toned, and healthy as possible for their wedding day. With their latest addition of "Virtual Training," the Bridal Body Shop makes it as easy as possible for anyone to find the time and budget to make their pre-nuptial fitness goals become a reality.
With Virtual Training, all that's needed is a computer and incentive. Coordinated by Elite Zeigelman, Chief of Fitness Operations, The Bridal Body Shop professional trainers will be there to provide custom-designed programs and unlimited online support to help brides get into the best shape ever. Brides will also have access to a fully stocked video library, making it easy for them to workout at their convenience 24/7.
"It's a dress for a day, but it's a body for a lifetime," says Laurie Towers, founder and CEO of Physical Advantage. "Our goal is to help brides become their personal best as they embark on their new life, and make fitness a lifestyle."
For more information, call 212-460-1879 or visit http://www.TheBridalBodyshop.com
###