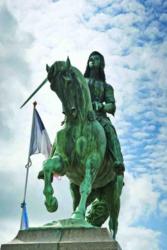 January 2012 marks the 600th anniversary of the birth of heroine, soldier and martyr Joan of Arc.
Baltimore, Md. (PRWEB) September 23, 2011
Marin Alsop Leads the Baltimore Symphony Orchestra in Centerpiece Performance of 2011-2012 Season, Arthur Honegger's Jeanne d'Arc au Bûcher, November 17 & 18
Program will also be performed at New York City's prestigious Carnegie Hall, November 19th
Baltimore, Md. (September 22, 2011) – The centerpiece of the Baltimore Symphony Orchestra's (BSO) 2011-2012 season-long celebration of revolutionary women is a performance of Swiss composer Arthur Honneger's 1935 semi-staged oratorio Jeanne d'Arc au Bûcher ("Joan of Arc at the Stake"), commemorating the 600th anniversary of French heroine Joan of Arc's birth. BSO Music Director Marin Alsop and the BSO will combine forces with the Concert Artists of Baltimore Vocalists, Peabody Hopkins Chorus, Morgan State University Choir and Peabody Children's Chorus for concerts on Thursday, November 17 at 8 p.m. and Friday, November 18 at 8 p.m. at the Joseph Meyerhoff Symphony Hall. The program will also be performed at New York City's prestigious Carnegie Hall on November 19 at 8 p.m. Featured singers also include sopranos Tamara Wilson and Hae Ji Chang, mezzo-soprano Kelley O'Connor, tenor Timothy Fallon, bass Morris Robinson and Cynthia Millar on the ondes Martenot. Grammy Award-winning director James Robinson will provide stage direction. Editor's Note: Casting for the principal roles of Joan of Arc and Brother Dominic will be announced at a later date. This program will be performed in French with English subtitles. Please see below for complete program details.
January 2012 marks the 600th anniversary of the birth of heroine, soldier and martyr Joan of Arc. The oratorio Jeanne d'Arc au Bûcher explores her final moments as she enters into a dialogue with her confessor, and examines her life in flashbacks—including the heresy trials before she achieves peace with God at the stake. This composition was originally commissioned in 1934 by Russian actress and aging star of the Ballets Russes Ida Rubinstein, who wanted to perform in a new work about Joan of Arc. She called upon French poet/dramatist Paul Claudel to write the libretto and "Les Six" composer Arthur Honegger. Honegger not only employed musical elements from Joan of Arc's own era, such as folk tunes and plainchant, but also incorporated more modern sounds; including parts for saxophone and a new French instrument, called the ondes martenot. The premiere was highly praised, and prompted Honegger and Claudel to again collaborate to later create La Danse de morts.
Marin Alsop, conductor
Hailed as one of the world's leading conductors for her artistic vision and commitment to accessibility in classical music, Marin Alsop made history with her appointment as the 12th music director of the Baltimore Symphony Orchestra. With her inaugural concerts in September 2007, she became the first woman to head a major American orchestra. She also holds the title of conductor emeritus at the Bournemouth Symphony in the United Kingdom, where she served as the principal conductor from 2002-2008, and is music director of the Cabrillo Festival of Contemporary Music in California.
In 2005, Ms. Alsop was named a MacArthur Fellow, the first conductor ever to receive this prestigious award. In 2007, she was honored with a European Women of Achievement Award, in 2008 she was inducted as a fellow into the American Academy of Arts and Sciences and in 2009 Musical America named her "Conductor of the Year." In November 2010, she was inducted into the Classical Music Hall of Fame. In February 2011, Marin Alsop was named the music director of the Orquestra Sinfônica do estado de São Paulo (OSESP), or the São Paulo State Symphony Orchestra, effective for the 2012 season. Ms. Alsop was named to Guardian's Top 100 Women list in March 2011. This spring Marin Alsop was named an Artist in Residence at the Southbank Centre in London, England.
A regular guest conductor with the New York Philharmonic, The Philadelphia Orchestra, London Symphony Orchestra and Los Angeles Philharmonic, Ms. Alsop appears frequently as a guest conductor with the most distinguished orchestras around the world. In addition to her performance activities, she is also an active recording artist with award-winning cycles of Brahms, Barber and Dvořák.
Marin Alsop attended Yale University and received her master's degree from The Juilliard School. In 1989, her conducting career was launched when she won the Koussevitzky Conducting Prize at Tanglewood where she studied with Leonard Bernstein.
James Robinson, stage director
Stage director James Robinson is regarded as one of America's most inventive and sought after directors. He has won wide acclaim for productions that range from standard repertory, to world premieres, to seldom performed works and he is considered the most widely performed director of opera in North America.
In 2000 James Robinson was named Artistic Director of Opera Colorado in Denver and oversaw its successful move into its new home, the Ellie Caulkins Opera House, in the autumn of 2005. The company continues to gain wide recognition for its adventurous programming and artistic excellence. Since then, he has taken up the post of Artistic Director of Opera Theater of St Louis. His first production there was a landmark version of John Corigliano's The Ghosts of Versailles (a co- production with the Wexford Festival in Ireland).
Past seasons' productions further include Die Entführung aus dem Serail and La Bohème for Houston Grand Opera, L'elisir d'amore for Boston Lyric Opera, Káta Kabanová and Eugene Onegin for Opera Ireland, Norma for the Royal Swedish Opera, Handel's Rinaldo for Opera Australia, Handel's Radamisto and Dominick Argento's Miss Havisham's Fire for Opera Theatre of St. Louis and his widely seen production of Nixon in China for Opera Colorado. More than twenty-five companies in North America have since adopted his production of Turandot, first produced for the Minnesota Opera in 1995.
Concert Artists of Baltimore Vocalists
Edward Polochick, Artistic Director
Founded by Edward Polochick and now in its 25th season, Concert Artists of Baltimore (CAB) consists of a professional chamber orchestra and professional chamber chorus. The full ensembles are featured in the Classy Classics series, with performances at The Miriam A. Friedberg Hall at the Peabody Institute, and the Patricia and Arthur Modell Performing Arts Center at the Lyric.
CAB also offers a chamber music series, Music at the Mansion, with performances at The Engineers Club, Garrett-Jacobs Mansion in Baltimore. This series showcases smaller forces, such as a quartet, and often features unique repertoire. CAB is frequently hired for performances throughout the region by other organizations, including the Lyric Opera Baltimore, Moscow Ballet, The Cathedral of Mary Our Queen, Temple Oheb Shalom, Johns Hopkins Medical Institutions, McDaniel College, St. Louis Church, The Holocaust Museum in Washington, D.C., The Visionary Arts Museum, Elizabethtown College, Catholic Charities and the Baltimore Symphony Orchestra. When larger forces are needed, such as when the singers of Concert Artists perform Messiah with the Baltimore Symphony Orchestra each year, the chorus expands to the Concert Artists Symphonic Chorale.
Morgan State University Choir
Eric Conway, Director
The Morgan State University Choir is one of the nation's most prestigious university choral ensembles. The choral forces of this critically acclaimed choir include The University Choir, which is over 130 voices strong, and The Morgan Singers – approximately 40 voices. While classical, gospel, and contemporary popular music comprise the choir's repertoire; the choir is noted for its emphasis on preserving the heritage of the spiritual, especially in the historic practices of performance.
The Morgan State University Choir has performed for audiences throughout the United States and all over the world – including Virgin Islands, Canary Islands, Canada, Africa, Asia and Europe. One of the Choir's most historic moments came with the opportunity to sing under the baton of Robert Shaw, conducting the Orchestra of St. Luke's and joined by Jessye Norman and others in Carnegie Hall's One Hundredth Birthday Tribute to Marian Anderson. A major milestone and historical movement occurred in the 1996-1997 season with the sounds of the "Silver Anniversary" concert being broadcast into households throughout the state of Maryland. The concert won three Emmy Awards for Maryland Public Television (MPT). MPT continues to air this hallmark performance during select sections of their membership drives.
Peabody-Hopkins Chorus
Edward Polochick, Director
The Peabody-Hopkins Chorus is a large choral ensemble consisting primarily of Peabody Institute non-orchestral majors, advancing voice majors, and students from the Homewood Campus of The Johns Hopkins University. The ensemble performs large-scale works from the standard choral-orchestral literature, usually in collaboration with the Peabody Singers and the Peabody Concert Orchestra, as well as occasional a cappella works. The ensemble typically performs twice each school year at venues that include the Miriam A. Friedberg Concert Hall at Peabody and the Joseph Meyerhoff Symphony Hall.
Peabody Children's Chorus
Doreen Falby, Director
The Peabody Children's Chorus, founded in 1989, is dedicated to providing age-appropriate vocal training for young people. The Chorus brings children together to rehearse and perform art and folk music of multiple cultures, languages, historical periods and styles. In six ensembles rehearsing at two campuses, more than 375 young people gain invaluable experience making music in ensemble settings, and studying ear training and music reading.
In recent years, the Peabody Children's Chorus has performed with the Baltimore Chamber Orchestra, the Baltimore Choral Arts Society, the Baltimore Opera Company, the Baltimore Symphony Orchestra, Concert Artists of Baltimore, the Mid-Atlantic Symphony Orchestra, the Morgan State University Choir, Peabody Conservatory's Opera Theater, the Peabody Concert Orchestra and the Peabody Symphony Orchestra. In Columbia, Maryland, the Chorus has performed with the Columbia Orchestra and Columbia Pro Cantare. The Chorus has performed in master classes with Mark Cudek, Vern Falby, Tom Hall, Bobby McFerrin, John Shirley-Quirk, and Webb Wiggins and has toured in England and France.
Tamara Wilson, soprano
"With a voice of steely beauty and great power," (Houston Chronicle) soprano Tamara Wilson was recently the grand prize winner of the 48th Annual Francisco Viñas Competition held at the Gran Teatre del Liceu in Barcelona, Spain. Ms. Wilson was also the recipient of Washington National Opera's Singer of the Year award for 2011.
"A bona fide Verdi soprano," Ms. Wilson recently sang Alice Ford in 'Falstaff' for her debut with Washington National Opera, made her Canadian Opera Company debut as Amelia Grimaldi in 'Simon Boccanegra' and debuted at Opera Australia as Aïda. Ms . Wilson gained international attention in the 2007 – 2008 season for her role debut as Amelia in 'Un ballo in maschera' at Houston Grand Opera, having just finished as a member of the Houston Grand Opera Studio. She also was a featured soloist at the 2010 NEA Opera Honors in which she sang "Ernani, involami" from Verdi's 'Ernani' to honor recipient Martina Arroyo.
Ms. Wilson's awards include the George London Award from the George London Foundation in which she was hailed for a "striking timbre all her own" (Opera News), as well as both a career grant in 2011 and a study grant in 2008 from the Richard Tucker Music Foundation. Other notable awards include first place in the 2005 Eleanor McCollum Competition for Young Singers in Houston and finalist in the 2004 Metropolitan Opera National Council Auditions, among others. Ms. Wilson received her degree at the University of Cincinnati-College Conservatory of Music (CCM).
Hae Ji Chang, soprano
Hae Ji Chang is an Artist Diploma student in New England Conservatory. She earned her master's degree at Manhattan school of Music, she has performed the roles of Lauretta in Gianni Schicchi, Lydie in Pénélope, and the title role in scenes from Maria Stuarda. Ms. Chang received her Bachelor of Music degree and Master of Music degree from Seoul National University where she performed Donna Anna in Don Giovanni. She recently performed Pamina in The Magic Flute at New England Conservatory. Ms. Chang also sang Susanna in Le nozze di Figaro at Aspen Music Festival where she performed Pamina in The Magic Flute and Zerlina in Don Giovanni in a scenes program. Ms. Chang has won numerous awards and honors, including a Schuyler Foundation for Career Bridges Grant Award, first prize in Dong-A Music Competition, first prize in E-Hwa Kyung-Hyang Music Competition, second prize in Shin, Young-Ok Music Competition, and second prize in Schubert Lieder Competition. She was also awarded a President's Award from Manhattan School of Music. Ms. Chang will covered Giannetta from L'elisir d'Amore at New York City Opera in March and Mélisande from Pelléas et Mélisande at Opera Theatre of Saint Louis in June.
Kelley O'Connor, mezzo-soprano
Possessing a voice of uncommon allure, musical sophistication far beyond her years, and intuitive and innate dramatic artistry, the Grammy award-winning mezzo-soprano Kelley O'Connor has emerged as one of the most compelling performers of her generation.
Highlights of the 2010-11 season included the artist's return to the New York Philharmonic for staged performances of Janáček's The Cunning Little Vixen under the baton of Alan Gilbert, and her Lyric Opera of Chicago debut as Hippolyta in A Midsummer Night's Dream in the company's new production by Neil Armfield, conducted by Rory Macdonald. She joined Gustavo Dudamel and the Los Angeles Philharmonic on an international tour offering performances of Bernstein's "Jeremiah" Symphony. Ms. O'Connor also performed Berio's Folk Songs with Daniel Harding and the London Symphony Orchestra at the Berlin Festival, excerpts from Roussel's Padmâvatî with Christoph Eschenbach and the National Symphony Orchestra, Bach's Missa Brevis in F major with Franz Welser-Möst and the Cleveland Orchestra, Beethoven's Ninth Symphony with Kurt Masur and the Shanghai Symphony Orchestra, Lieberson's Neruda Songs with Stéphane Denève and the Seattle Symphony as well as with the Royal Scottish National Orchestra, Mahler's "Resurrection" Symphony with Gustavo Dudamel and the Simón Bolívar Orchestra, David Robertson and the Saint Louis Symphony Orchestra, and with Edo de Waart and the Milwaukee Symphony, and Britten's "Spring" Symphony with Robert Spano and the Atlanta Symphony Orchestra.
Timothy Fallon, tenor
Timothy Fallon is a native of Binghamton, (New York) and holds a B.A. degree from Westminster Choir College, Princeton (New Jersey), and an Artist Diploma from the Juilliard Opera Center, The Juilliard School of Music, New York. Since 2007 he has been engaged at The Leipzig Opera (Germany) where he has sung roles such as Belmonte in Mozart's Die Entführung aus dem Serail, Scaramuccio in Ariadne auf Naxos by Strauss, and Almaviva in Rossini's Barber of Seville. 2009 saw his début in the leading tenor role in Rossini's Turco in Italia in Leipzig. He is among the foremost lyric Bel canto tenors of the young generation. Other performances include the roles of Belfiore in Mozart's La Finta Giardiniera with the Juilliard Opera Center, Tonio in Donizetti's La Fille du Régiment and Alfredo in Verdi's La Traviata with The Tri-cities Opera (New York), Ernesto in Donizetti's Don Pasquale with the Newton Symphony Orchestra, and concert appearances at Carnegie's Zankel Hall and Avery Fisher Hall (New York). In July 2011 he was heard in Honegger's Jeanne d'Arc au bûcher at the Oregon Bach Festival.
Morris Robinson, bass
Morris Robinson is quickly gaining a reputation as one of the most interesting and sought after basses performing today. A graduate of the Metropolitan Opera Lindemann Young Artist Development Program, Mr. Robinson made his debut at the Metropolitan Opera in their production of Fidelio. He has since appeared there as Sarastro in Die Zauberflöte (both in the original production and in a new children's English version), the King in Aida, and in roles in Nabucco, Tannhäuser, and the new productions of Les Troyens and Salome. He has also appeared at the Aix-en-Provence Festival, Florida Grand Opera, Pittsburgh Opera, Opera Company of Philadelphia, Seattle Opera, Opera Pacific, Boston Lyric Opera, Opera Theater of St. Louis, and the Wolf Trap Opera. His many roles include Sarastro in Die Zauberflöte, Osmin in Die Entführung aus dem Serail, Ramfis in Aida, Sparafucile in Rigoletto, Commendatore in Don Giovanni, the Bonze in Madama Butterfly, Padre Guardiano in La Forza del Destino, and Ferrando in Il Trovatore.
Mr. Robinson's first album, Going Home, was released on the Decca label. An Atlanta native, Mr. Robinson is a graduate of The Citadel and received his musical training from the Boston University Opera Institute.
Cynthia Millar, ondes Martenot
Cynthia Millar studied the Ondes Martenot first with John Morton in England and later with Jeanne Loriod, who with her brother in law, Olivier Messiaen, has done so much to bring the instrument to a wider public. Since she first performed the Turangalila-Symphonie at the BBC Promenade Concerts in London with Mark Elder and the National Youth Orchestra of Great Britain, she has performed with many of the world's leading orchestras and in November 2009 she gave her 100th performance of the work with the Monte Carlo Orchestre Philharmonique. She has worked with conductors including Sir Simon Rattle, Sir Andrew Davis, André Previn, Esa-Pekka Salonen, Edo de Waart, Leonard Slatkin, Yan Pascal Tortelier, David Robertson, Kent Nagano, Franz Welser-Möst, Mark Wigglesworth, Mattias Bamert, Donald Runnicles, Ilan Volkov, Mariss Jansons, Yakov Krietzburg and Gustavo Dudamel. She has also performed in the premieres of Turangalila in Scotland, Singapore, and Washington DC, and in 1996, she played in the first performances in Los Angeles for more than twenty years with Esa-Pekka Salonen and the Los Angeles Philharmonic Orchestra. Other performances have included appearances at the Maggio Musicale Fiorentino and the Edinburgh Festival as well as regular appearances at the BBC Promenade Concerts, and with orchestras including the San Francisco Symphony, Cleveland Orchestra, the National Symphony Orchestra of Washington, the Sydney and New Zealand Symphony Orchestras, the London Symphony Orchestra, London Philharmonic, the BBC Orchestras, the Swedish Radio Symphony Orchestra and the Orchestre National de Lyon.
COMPLETE PROGRAM DETAILS
BSO Classical Concert: Joan of Arc at the Stake
Thursday, November 17, 2011 at 8 p.m. – Joseph Meyerhoff Symphony Hall (JMSH)
Friday, November 18, 2011 at 8 p.m. – JMSH
Saturday, November 19, 2011 at 8 p.m.—Carnegie Hall, 881 Seventh Avenue, New York, NY 10019
Marin Alsop, conductor
James Robinson, stage director
TBD, actress (Joan of Arc)
TBD, actor (Brother Dominic)
Tamara Wilson, soprano (Soprano Solo; The Virgin)
Hae Ji Chang, soprano (Marguerite)
Kelley O'Connor, mezzo-soprano (Catherine)
Timothy Fallon, tenor (Tenor Solo; Porcus; Herald I; The Clerk)
Morris Robinson, bass (Bass Solo; Herald II)
Cynthia Millar, ondes Martenot
Concert Artists of Baltimore Vocalists
Ed Polochick, Director
Peabody Hopkins Chorus
Ed Polochick, Director
Morgan State University Choir
Eric Conway, Director
Peabody Children's Chorus
Doreen Falby, Director
Arthur Honegger: Jeanne d'Arc au Bûcher
Tickets range from $28 to $61 and are available through the BSO Ticket Office, 410.783.8000 or BSOmusic.org.
Tickets for the concerts at Carnegie Hall range from $15.50 to $91 and are available at carnegiehall.org.
###