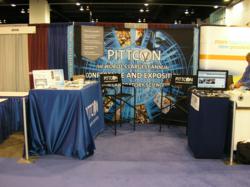 Pittsburgh, PA (PRWEB) September 30, 2011
The Pittcon Organizing Committee is pleased to announce its exhibiting schedule for October 2011 as follows:
Gulf Coast Conference, Booth #203, October 11-12, Moody Gardens Convention Center, Galveston, Texas. The Gulf Coast Conference is a non-profit organization oriented toward advancement of the knowledge of chemical analysis technology associated with the petrochemical, refining, and environmental fields. Some of the highlights of the conference will be the Multi-dimensonal Separations Symposium, New Product Showcase, and Gulf Oil Symposium
NE Biomass Conference and Trade Show, Booth #41, October 11-13, Westin Convention Center, Pittsburgh, Pennyslvania. The Northeast Biomass Conference & T`rade Show will connect the current and future producers of biomass-derived electricity, industrial heat and power, and advanced biofuels, with waste generators, aggregators, growers, municipal leaders, utility executives, technology providers, equipment manufacturers, investors and policy makers.
BCEIA (Beijing Conference and Exposition for Instrumental Analysis), October 13–16, Central Garden Hotel, Beijing, China. BCEIA, sponsored by the China Association for Instrumental Analysis and supported by the Ministry of Science and Technology of China, has been a biennial professional international event in this field in China.
BioFlorida, October 23-25, Marriott Tampa Waterside, Tampa, Florida. The Conference is a three-day program with numerous features that make this the state's premier bioscience business, investor, partnering & science conference.
BioConference Live: Life Sciences, October 26-27, (virtual event). . BioConference Live brings together research scientists, clinicians, healthcare practitioners & professionals, physicians, and thought leaders from around the world to learn about recent advances in life sciences and clinical diagnostics
About Pittcon 2012
Pittcon, the world's largest annual conference and exposition for laboratory science, will be held March 11-15, 2012, Orange County Convention Center, Orlando, Florida. For complete information, visit pittcon.org.
###