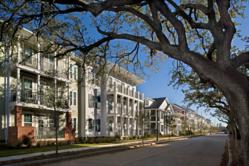 We are very proud of the high standards set at Columbia Residential and our team has once again successfully reached beyond established limits with Columbia Parc.
Atlanta, GA (PRWEB) September 26, 2011
Columbia Residential, one of the nation's leading developers and managers of multifamily affordable housing communities has been selected the 2011 overall winner in the national Affordable Housing Finance's Readers' Choice Awards for their New Orleans community: Columbia Parc at the Bayou District.
Columbia Parc at the Bayou District is located on the former St. Bernard Public Housing Development site in New Orleans. Hurricane Katrina flooded the circa 1940 public housing units with between six and 10 feet of water, rendering the units uninhabitable, which led to the redevelopment of the site into what is now Columbia Parc.
Phase 1 and phase 2 at Columbia Parc are complete, with the final two phases of development to be completed in 2012. Columbia Parc is the first milestone in a visionary community redevelopment plan that includes mixed-income rental and for-sale housing, early childhood education, charter school, retail, and recreation facilities.
"We are very proud of the high standards set at Columbia Residential and our team has once again successfully reached beyond established limits with Columbia Parc," said Noel Khalil, Columbia Residential Chairman & CEO. "We are extremely honored to have been selected to receive the top award considering the quality of the other communities under consideration."
Phase 1 of Columbia Parc, a $124 million development project completed in November 2010, was developed by Columbia Residential, The Bayou District Foundation of New Orleans, and the Housing Authority of New Orleans (HANO).
The St. Bernard Public Housing Development in the Gentilly neighborhood had been in decline for years, with only 900 of 1,400 public housing units occupied in August 2005 when Hurricane Katrina caused catastrophic flooding and damage. Of Columbia Parc's 466 units in phase one, 157 units are set aside for public housing residents, 160 low-income housing tax credit units for residents earning less than 60 percent of the area median income, and 149 units are market rate.
"Providing quality affordable housing for New Orleans families is a top priority here at HANO, and we are excited that Affordable Housing Finance readers recognize this community's success in achieving that goal," said Housing Authority of New Orleans Administrative Receiver David Gilmore. "We're pleased that Columbia Parc is viewed as a great place to live and raise children, and will continue to work with Columbia Residential Inc. and the Bayou District Foundation to maintain this excellence."
The development was financed with Gulf Opportunity Zone tax credits, with AEGON USA Realty Advisors as the equity investor; a Community Development Block Grant through the Louisiana Office of Community Development's Disaster Recovery Unit; acquisition and construction loans through HANO and the Department of Housing and Urban Development; construction and bridge financing through Regions Bank; and a permanent first mortgage through Oak Grove Capital and Freddie Mac.
In addition to being voted the top overall development by Affordable Housing Finance readers, Columbia Parc at the Bayou District was selected as the best family project. The magazine received more than 140 nominations this year for the top developments of 2010 and 2011. Affordable Housing Finance magazine and e-newsletter subscribers then selected the winners from 35 finalists in nine categories. The announcement from Affordable Housing Finance can be accessed here.
About Columbia Residential
Since 1991, Columbia Residential has developed and managed multifamily affordable housing communities throughout the Southeastern United States. Columbia Residential has successfully developed 40 affordable and mixed-income residential communities comprising over 5,500 apartment units in Georgia, Louisiana, and Texas. Columbia Residential develops the highest quality affordable and mixed-income housing with a variety of partnerships, employing experienced design teams, contractors, and vendors to bring communities to life with inventive architectural design, landscaping and construction. Columbia Residential is a full service organization, comprising Columbia Residential Management Group and Columbia Residential Construction Services. For more information, visit http://www.columbiares.com.
About Affordable Housing Finance Magazine
Affordable Housing is a nationwide business-to-business magazine serving the affordable housing industry. The seventh-annual Readers' Choice Awards honors the nation's best affordable housing developments. The magazine is honoring 10 developments from across the nation that serve low-income Americans and their communities. The magazine and e-newsletter subscribers voted on the winners in each of the nine categories as well as the best overall development out of the 35 finalists selected by the magazine's editors that appeared in the July/August 2011 issue. The winners will be featured in the November/December issue of Affordable Housing Finance and will be recognized at a luncheon concluding with "AHF Live: The 2011 Affordable Housing Developers' Summit" on Nov. 4 at the Swissotel in Chicago.
###