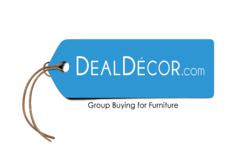 Deal Décor will disrupt online furniture just as IKEA
disrupted brick and mortar furniture
San Francisco, CA (PRWEB) September 26, 2011
Start-Up Origins
Nine months ago, former colleagues at Home Depot, Gregory Lok and Craig Sakuma, began asking themselves if there was some way to combine their factory-direct sourcing experience with the flash sales and group-buying craze hitting America. Soon after, Gregory (CEO) and Craig (President) founded Deal Décor.com: America's first group-buying platform for furniture, which offers factory direct deals to price sensitive consumers.
Different From Other Group-Buying Sites
Unlike other group-buying sites, Deal Décor is vertically integrated from the customer to the factory. They have developed an innovative supply chain that eliminates expensive overhead and reduces transportation costs. This allows Deal Décor to offer 30-70% discounts and reduce the carbon footprint of a customer's purchase.
Pilot Launch: San Francisco
Deal Décor will be offering its first deal on September 26, 2011 in the San Francisco Bay Area for a two week period. The start-up will be offering a 3-piece sofa sectional for $399; the same exact item on Amazon.com retails between $706 to well over $800.
Growth Plans: Aggressive Expansion
During the next six months, the start-up aims to optimize and refine its business model before aggressively scaling to the top 20 largest metropolitan areas in the next 18 months.
For additional information and details, please visit http://www.DealDecor.com or contact Jennifer Wu at Jennifer(at)dealdecor(dot)com.
###