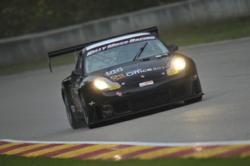 For me, personally, winning my third consecutive National Championship would be an incredible achievement that I have worked very hard for. -- Scott Tucker
Elkhart Lake, Wis. (PRWEB) September 24, 2011
Scott Tucker and Level 5 Motorsports will be going for history in this weekend's SCCA National Championship Runoffs at Road America, as Tucker aims to become one of the very few drivers with three consecutive National Championship titles in one of the country's most prestigious racing events.
Tucker, who recently clinched back-to-back American Le Mans Series championships following his fourth LMP2 victory of the season last weekend at Laguna Seca, shifts his focus to Friday's championship race, which will see the accomplished road racer take the wheel of a specially prepared, Microsoft Office 2010-sponsored Porsche 996 Twin-Turbo.
"For me, personally, winning my third consecutive National Championship would be an incredible achievement that I have worked very hard for," said Tucker, who notched his 59th career victory last weekend. "Winning any championship is extremely difficult. All you can do is prepare the best you know how and do you best on track and see where the chips fall at the checkered flag."
The ambitious project began early this year when Level 5 Motorsports purchased the 500-plus horsepower, four-wheel drive Porsche. Led by Kelly Moss Motorsports' Jeff Stone, both KMM and Level 5 teamed up to transform the unique Porsche into a SCCA STO class-winning contender. The car underwent an extensive development program, led by Stone, which included a series of test runs with Porsche factory driver Patrick Long.
Tucker, who won his two previous National Championships with a Ferrari 430 Challenge car in the T1 category, competed in four early-season SCCA events at Sebring International Raceway and Homestead-Miami Speedway with a modified 430 Challenge car for the STO class before the decision was made to go with with the radical 996 Twin-Turbo.
Led by project manager Ed Zabinski and engineered by veteran Jeff Braun, there's high expectations for the Porsche 996 Twin-Turbo heading into Friday morning's 13-lap or 40-minute race on the famed Road America circuit, one of the premier road racing venues in North America.
"We really tried to bring all of the best guys in the program," said Zabinski, who is also the car's entrant. "I'm pretty happy at the way it turned out. The Porsche has developed into a reliable car. I think we're looking pretty good."
Prospects for the win are high, especially following Tucker's impressive performance in qualifying on Wednesday. He recorded a best lap of 2:16.462, which stands as the overall quickest time among the STO field earning the pole position heading into Friday' race at 8 30 am.
"We've been running in the top-three in all of the qualifying sessions this week. Scott loves the car," Zabinski added. "I don't know what the stats are, but there are only a few guys who have won three consecutive National Championships. We'll certainly be going for that."
The SCCA National Championship Runoffs, The Pinnacle of American Motorsports, will crown Sports Car Club of America's Club Racing National Champions for the 48th-consecutive year in 2011. The best drivers from across North America convene on Road America's historic four-mile road course in what is considered the "Olympics" of motorsports. This year's event begins with four days of qualifying, Sept. 19-22, and concludes with three days of racing, Sept. 23-25.
###