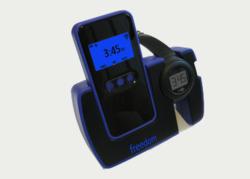 Provides 'Freedom' and safety to those with cognitive disorders, and security and peace-of-mind to their caregivers.
Palm Harbor, FL (PRWEB) September 28, 2011
National Silver Alert, Inc., provider of the National Silver Alert Program, a free, national online registration program, and LOK8U, a leading global innovator and provider of personal location-based products and services, have formed a global alliance to provide a total solution for individuals at risk for wandering in the United States and Canada.
The National Silver Alert Program, a free, national online registration program open to all senior citizens and individuals with Alzheimer's, Autism, Down's Syndrome, brain injuries and other cognitive disorders, regardless of age, is a secure online system that allows caregivers to store vital personal, medical, health and caregiver information that can be easily accessed in the event of an emergency.
LOK8U provides enhanced safety and peace-of-mind products and services, particularly for those caring for a loved one with cognitive disorders. LOK8U's "Freedom Watch" is a lockable device worn on the at-risk individual's wrist. Freedom uses both RF and GSM technology to communicate position data. It operates on RF when in proximity, approximately 100' indoors, and 650' outdoors. When the watch and receiver become separated, or out of proximity, an alarm sounds on the RF receiver and the Freedom watch automatically switches to the GPS/GSM network and sends its position to the caregiver via email and SMS. This GPS technology is generally accurate to within 10' when outdoors.
Neil Arfmann, CEO of National Silver Alert, Inc. said, "Wandering is the major reason for missing person alerts, particularly in adults. A solution that minimizes the time in which a person is 'missing' obviously reduces the potential health risks. However, the technology must be affixed to the at-risk person to be reliable." He went on to say, "In my extensive research, LOK8U's 'Freedom Watch' is the only one that met all the criteria. We remain committed to extending National Silver Alert throughout North America and beyond to keep at-risk people safe."
LOK8U's chief executive, Steve Salmon noted that "I am excited about the opportunity to enrich the LOK8U offering across the world to keep those at risk safer. While it is our goal to minimize the risk of wandering events through prompt determination of the missing person's location, we recognize that prompt access to medical records and personal information is just as important as finding the missing person. National Silver Alert, Inc. is widely recognized as the most reliable organization in the industry for providing this service."
# # #