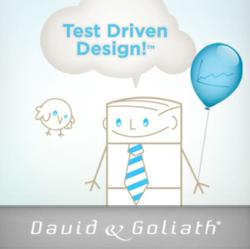 Test Driven Design can do as much for a project as a $25,000 marketing research program, but at a fraction of the cost.
Montreal, Canada (PRWEB) September 26, 2011
David and Goliath, a Montreal-based communications firm specializing in integrated design, marketing and web services, has recently launched Test Driven Design™, a simple and flexible testing service that gives clients fast feedback on marketing projects to make fact-based decisions rather than working by intuition or personal preference.
Offered as a stand-alone service, Test Driven Design™ helps clients make informed marketing decisions on new work as well as to re-assess logos, corporate images, web sites, and any other material that conveys a company image.
"Many organizations come to market with designs and packaging that are based on things the marketing manager likes or that the designer likes, but if those people aren't part of the targeted demographic, the results can be ineffective," says David and Goliath president Bachir Saouaf.
Judging creative with fact-based information
Test Driven Design™ works by conducting a comprehensive client needs analysis while integrating market research into the creative process from the very start. Combining the strengths of focus groups, individual interviews and market surveys to carry out fast and economical mini-tests, the methodology identifies objective parameters that can be used to judge the effectiveness of advertising and design.
David and Goliath's campaign for the University of Ottawa to attract qualified 'Generation Y' applicants was formed using Test Driven Design™. The results? The number of students rose by 30% over five years. And in a very competitive market, the University of Ottawa saw an increase in applications across Canada, from 30% to 165%, depending on the geographic market segment.
Knowing what your audience wants
Do we include a maple leaf? How do we make it bilingual without repeating the name in both languages? These were some of the questions David and Goliath faced working on a redesign of the University of Ottawa's logo. The university had decided to position itself as Canada's university. Choosing to work with the name uOttawa, it hoped to find a logo that would be easily understood in both official languages.
One of three agencies competing for the account, David and Goliath used Test Driven Design™ to hone its strategy. It created and tested dozens of prototypes to find that the name uOttawa used with certain icons was immediately associated with a university, whereas adding a maple leaf to the same name made respondents think of a political or government organization.
The firm presented not only several logos but also statistics on the perception of each along with what they meant to the general public. It was ultimately awarded the logo creation and advertising work. When the committee voted in favour of the final logo proposed by David and Goliath, the university hired an independent research agency to make sure they were on the right track. The agency arrived at the same conclusions as did David and Goliath's tests.
Test process based on ten years of experience
"The process is not entirely new to us. We have been doing this for our clients for years, we're just presenting it as a product now," says Bachir Saouaf who came across the idea nearly a decade ago when his firm's office at the time had a central work table.
"We were putting prototypes of a packaging design on the table over a few weeks, and sometimes employees walking by would stop to look at a design and other times they wouldn't. I began to ask them simple, easy-to-answer questions as to why," he says.
The answers were evaluated and designs modified accordingly and a nimble process was developed that, according to Saouaf, can do as much for a project as a $25,000 research program, but at a fraction of the cost.
Without giving away the details, Saouaf says he uses small research segments combined with consistent fine tuning to help clients make their decisions based on facts rather than their own intuition. And as his firm further develops the process, they become increasingly adept in the study of perception, motivation and intention.
"You don't need to be big," he says. "When you are working well, you can achieve great things."
About David&Goliath Communication-Marketing
David&Goliath is a Montreal-based communications firm offering integrated design, marketing and web services and specializing in high end print and web projects. Founded in 1997 by Bachir Saouaf and Carole Leduc, the firm distinguishes its work by systematically testing concepts before marketing them. Its research-based approach has been used successfully for clients such as the University of Ottawa, The Royal Bank of Canada and World Film Festival.
# # #