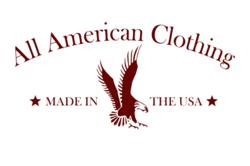 Arcanum, OH (PRWEB) September 26, 2011
The All American Clothing Co, home of an extended collection of USA Made products, announces its next step toward the always sought product expansion. The company's brand produced at a growth rate of 65% in 2010. The growth in 2011 is currently at an even higher rate than the previous year. Why?
Due to the increased sales, All American Clothing Co. is able to also announce the creation of additional USA Jobs. In an effort to continue providing World Class Service and USA Made clothing, the company was also able to help hire 14 new positions in one of the cut and sew facilities currently contracted by All American Clothing Co. The company has also hired a new marketing and communications expert in order to increase exposure to consumers who are drastically trying to find USA Made clothing. The goal for this company is to keep the ball rolling by creating more production and more USA Jobs.
The increase in sales and hiring of additional employees will assure the company's ability for expansion of new product lines before the upcoming Holidays. New products that have recently been released on All American Clothing Co's website includes "camouflage" cargo shorts and breast cancer awareness products. There is a release coming in the very near future for more women's and men's jeans, all made in the USA. For additional information regarding the new released products, visit http://www.allamericanclothing.com.
About All American Clothing Co.
All American Clothing Co. is a success story for small business in today`s economy. The entire group of employees understand the need and thus the support of a genuine passion for USA jobs, American made quality products and a World Class service record. They strive to foster the loyalty among customers. The company has created an environment that friends in the industry have considered to be a poster child for a "small business success story." To find out more about the passion and effort it takes to build a business in today`s economy, go to http://www.allamericanclothing.com and click on "Our Story" or go to http://www.facebook.com/AllAmericanClothing. 888-937-8009
###