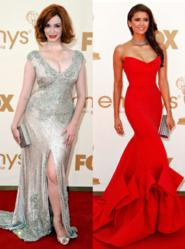 It really seemed this year's big trend was going to be subtle nude, to neutral colors, but after watching the Emmy's, still showing strong was sexy Red and formal black
Port Jefferson Station, NY (PRWEB) September 24, 2011
Girls and women alike always look at celebrities to find the latest styles and trends. Magic Moments, an online store and walk- in boutique in New York, keeps up with all the latest fashions and keeps their clients up to date. Sometimes keeping with the latest trends can be costly, but Magic Moments reports that doesn't have to be so. Recently Magic Moments described all the hottest style of the VMA awards. Now, the latest celebrity Red Carpet event was the 2011 Emmy's!
Stars from all over like Jane Lynch from Glee, comedian Kathy Griffin, and movie star Rachael Harris all walked the Red Carpet at the 2011 Emmys. So many fabulous looks stopped and posed for the multitude of flashes from all the media. The women and girls looked fabulous, most showing long glamorous style dresses.
Magic Moments announces that red seemed like a favorite this year at the Emmy's. Owner, Elia Rubinstein, states "after watching the Miss Universe Pageant, it really seemed this year's big trend was going to be subtle nude, to neutral colors, but after watching the Emmy's, still showing strong was sexy red and formal black."
Many of Magic Moments clients, who can't afford the high end styles the Celebrities show off, can still have that Red Carpet look with top designers that offer affordable and quality trendy styles to fit anyone's pocket. For instance, to capture the sexy style of Christina Hendricks plunging neckline, in a sexy nude color, with plenty of sparkly bead work, women can turn to fashion offered by Terani Couture and Tony Bowls Evenings. Celebrity Heather Morris showed off her deep v neckline with diagonal tiers of flowing fabric can be found in Mac Duggal Couture designs and Jovani. For women with full figures like Melissa McCarthy who prefer more full coverage, yet class, can turn to Sydney's Closet and Night Moves for red carpet glam.
Not matter what your budget and style, you can always find your favorite celebrity styles and Red Carpet looks. Jovani , Alyce Designs, Tiffany Designs,La Femme, Flirt and Mori Lee are just a few designers that offer celebrity looks at affordable prices. Sometimes you can't put a price on glam, but it's nice to know that you can.
Magic Moments is an authorized retailer of over 50 designers listed on their site. They are located on Long Island and have been serving the community and customers located throughout the United States, Europe, and Asia, and Japan. Visit them at http://www.magicmomentsprom.com and http://www.magicmomentscollectons.com
###