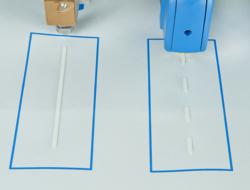 Customers and adhesive companies alike are embracing the OptiBond Solution to mitigate tighter supplies and higher prices of adhesives.
Duluth, GA (PRWEB) September 26, 2011
Nordson Corporation (Nasdaq: NDSN) is introducing OptiBond Solutions to help packagers mitigate hot melt adhesive shortages by optimizing adhesive use. OptiBond technologies are on display at booth C-1600, Pack Expo Las Vegas, September 26 – 28, 2011.
Today, primary and secondary packagers face tightening supplies and higher prices for adhesives, driven by rising crude oil costs, reduced availability of ethylene derivatives, and a supply chain impacted by a variety of natural disasters worldwide. In emerging markets, rapidly growing demand for adhesives in the manufacturing of consumer products is placing additional pressure on adhesive availability.
To meet these challenges, Nordson's OptiBond Solutions enable packagers to stretch their adhesive by up to 100 percent, doubling the number of cartons or cases sealed per pound of adhesive.
More specifically, adhesive bead length, placement, diameter and volume are optimized, allowing product sealing with significantly less adhesive while preserving bond and package integrity.
A typical OptiBond packaging solution uses patented Nordson MiniBlue® II pneumatic dispensing guns and Nordson Saturn® Platinum (SP) solenoid valves combined with simple adhesive pattern modification, from continuous to intermittent.
A pattern control device, such as a Nordson Eclipse™ EPC-30 pattern control or parent packaging machine programmable logic control (PLC) is also employed.
In the past, replacing longer, continuous adhesive beads dispensing with modulated, intermittent dispensing was impractical as the increased on/off cycling of guns resulted in shorter service life and less precise adhesive placement.
MiniBlue II guns feature patented hydraulic seal technology that produces long-life capability of over 100 million cycles with consistent, no-drift/variation at speeds as fast as 2 milliseconds.
Saturn Platinum solenoid valves also deliver long life. Unlike competitive products, the SP solenoid valves do not require the additional cost and wear-and-tear of an electrical spike driver to achieve modulated, intermittent bead, dispensing speeds.
Packagers achieve lower total cost of ownership from reduced downtime and maintenance, less frequent gun and gun module replacement as well as minimal need for solenoid adjustment and replacement.
"Customers and adhesive companies alike are embracing the OptiBond Solution to mitigate tighter supplies and higher prices of adhesives," states Gary Selph, business development manager at Nordson.
"Using Nordson technology, packagers can achieve secure seals and bonds with up to 50 percent less adhesive and no loss of package integrity," says Selph.
See actual glue savings in the Nordson OptiBond Solutions video that shows standard adhesive bead dispensing compared to modulated, intermittent bead dispensing.
Visit us online for more information at nordson.com/optibondpkg, or contact Nordson toll-free at +1 800-683-2314.
Nordson Corporation is one of the world's leading producers of precision dispensing equipment that applies adhesives, sealants, liquid and powder coatings and other materials to a broad range of consumer and industrial products during manufacturing operations. The company also manufactures equipment used in the testing and inspection of electronic components as well as technology-based systems for UV curing and surface treatment processes. Headquartered in Westlake, Ohio, Nordson has direct operations and sales support offices in more than 30 countries.
###