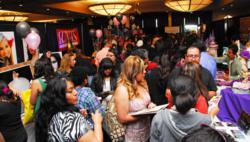 The Quinceanera.com Expo works for us because it delivers two key audiences; the young teen that heavily influences purchasing decisions around their Quinceañeras and the parents who pay for it.
Los Angeles, Ca (PRWEB) September 22, 2011
El Clasificado, an EC Hispanic Media company, announces the production of its largest Quinceanera.com Expo and Fashion Show. The event is the fourth in a series of five yearly events and will take place on September 25, 2011 at the Ontario Convention Center. The highly interactive event provides brands ample opportunity to interact with a key demographic: Young, 14-16 year old Latinas and their parents.
Event exhibitors include Disneyland, La Curacao, Azteca Los Angeles 54, Men's Warehouse and David's Bridal. Exhibitors will offer a highly interactive and value packed experience from the point of view of the consumer. La Curacao is featuring four key engagement points with Nikon cameras, beauty makeovers, Jewelry, and new credit accounts. "The Quinceanera.com Expo works for us because it delivers two key audiences; the young teen that heavily influences purchasing decisions around their Quinceañeras and the parents who pay for it. We love the prospect of having both audiences in one place and thinking about the same celebration. We want them to come to our stores to find the products they need for this important celebration," said Ruth Garcia, Advertising and Marketing Manager for La Curacao.
The Ontario California Quinceanera.com Expo and Fashion Show officially launched with search for the next Quinceanera.com magazine cover girl for the next expo event in San Diego. Aspiring cover girls were interviewed by a panel of experts composed of radio personality Kolo Barrera from Exitos 93.9 Los Angeles, Ventaneando America Producer, Gachi Ciurluini, Azteca America News Correspondent, Maria Elena Garcia, Latina Fashionista Executive Director, Rosseana Garcia, El Clasificado's Director of Communications, Alicia Garcia, and EC Hispanic Media's Director of Marketing, Hugo Hernandez. Three finalists who emerged from a field of 40 are being featured in a marketing campaign inviting the public at large to vote for their favorite cover girl at http://www.quinceanera.com. The winning cover girl will be crowned at the Ontario Expo. An aggressive social media campaign supports the final phase of the contest and seeks to further engage this key audience in the run up to the event.
The Expo also counts with a website: http://www.quinceanera.com and a magazine which publishes 200,000 issues per year or 40,000 per Expo. The magazine will be distributed via El Clasificado's award winning distribution system. Additionally, the magazine will be available at La Curacao stores in their San Bernardino and Chino locations.
Azteca looks to this event to further promote what is considered the leading musical reality show in the Hispanic market, La Academia. "Partnering with EC Hispanic media on this event made sense for us because it offers various important touch points to reach key audiences: The magazine in which we have key positioning, the cover girl selection panel which has the potential of organic social media growth, the added footprint which El Clasificado magazine brings to the table and the actual event which gets us in front of an extremely engaged consumer," said Ricardo Becerra, Marketing Director for Azteca Los Angeles 54.
Quinceanera.com Expo and Fashion show represents a critical brand for EC Hispanic Media. Through the Expo, its magazine and its website, EC Hispanic Media continues to build a grass roots platform that truly connects with Latino families in a culturally relevant way and during a stage where planned purchases are very much in mind. The event is supported via key strategies; a promotion, its magazine, its website, a social media campaign and post event support. A key element of the Quinceanera brand is its support of non-profit Latina Fashionista which will be providing information about career and education opportunities to Latinas interested in all aspects of the Fashion industry. "Quinceanera.com is a media brand that offers great value for our clients for two reasons: At five years old, it is still in its infancy stage and is positioned to grow aggressively over the next five years. But most importantly, it has well developed distribution points on and off line which means a 360 approach to engaging the market. We expect local and national retailers to use it in 2012 as a key point of engagement with Hispanics throughout the United States," said Hugo Hernandez, Director of Marketing and Events for EC Hispanic Media.
About EC Hispanic Media:
EC Hispanic Media is a Los Angeles based company with headquarters in Norwalk, California. Through its flagship print product, El Clasificado, EC Hispanic media reaches 1.5 million Hispanics on a weekly basis. Its footprint extends from the Central Valley of California to San Diego with a distribution of 460,000. In the last year, the distribution has grown at a neck breaking pace, and has recently expanded into the Fresno and the Bakersfield markets. EC Hispanic media also owns elclasificado.com which generates 6 million page views a month from across the United States. EC Hispanic Media's events division produces "Quinceañera Expo" which attracts 10,000 attendees annually, and the "Su Socio de Negocios" small business workshop series. EC Hispanic Media also reaches the bilingual Hispanic via its online property alborde.com and its "Día de los Muertos" event in November.
About La Curacao:
With 30 years of service, La Curacao is the largest department store in the Hispanic market, and is amongst the best 50 electronics and appliance stores in the United States. Each of its ten locations offers more than 100,00 square feet for sales and services of most interest to the Hispanic community including Curatel, which offers local and long distance phone calling, Travel Agencies, Export services, Money wiring, Pasito.com (an Internet service provider) and Pollo Campero restaurants.
For more information contact:
Hugo Hernandez
Director of Marketing
EC Hispanic Media
hugo(dot)hernandez(at)elclasificado(dot)com
323.278.5513 direct
###