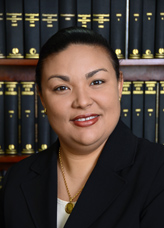 Continuous growth, continuous excellence.
Nassau, The Bahamas (PRWEB) September 23, 2011
The Partners of Halsbury Chambers (Bahamas) are pleased to announce the appointment of Samantha Knowles-Pratt as their newest Partner.
Samantha's areas of expertise include: Securities, Investment Funds, Corporate and Commercial Law, Trust, Foundations, Real Estate and Mortgages.
Samantha was called to the English Bar in July 1998 and The Bahamas Bar in September of that year. She obtained her LLB (Hons) (Business Law) degree from the University of Wolverhampton, Wolverhampton, United Kingdom. Samantha is a member of the Honourable Society of the Inner Temple, England and the Bahamas Bar. She is also an active member of The Bahamas' Financial Services Board's Funds and Securities working groups. A few years ago, Samantha was employed at the Securities Commission of The Bahamas, where she was a part of the working group for the drafting of the Investment Funds Act and Regulations, 2003 inclusive of the SMART Fund Rules. Samantha has spoken at various conferences on topics pertaining to investments funds and foundations, to name a few. Samantha is married to Captain Teddy Pratt and they have one daughter, Brianna.
Halsbury Law Chambers
Halsbury Commercial Centre
Village Road North
P. O. Box CR-56766
Suite #548 Nassau, N.P.
The Bahamas
Tel: [242] 393 4551-5
Fax: [242] 393 4558
Website Address: http://www.halsburylawchambers.com
###