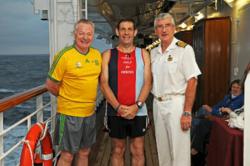 "Everyone at Princess Cruises is very proud that Grand Princess could host the first marathon at sea," said Jan Swartz, Princess Cruises executive vice president.
Santa Clarita, CA (PRWEB) September 22, 2011
Today cruise passenger Steve Eaton completed the world's first-ever marathon at sea aboard Princess Cruises' ship Grand Princess with a time of 5 hours, 16 minutes and 45 seconds.
Eaton, 57, who is from Tamworth, UK has run 33 marathons in the past but this was a totally new experience which stemmed from his wish to raise money for Help for Heroes, a charity that provides support to those wounded, sick or injured in the line of duty since 9/11.
The race was inspired by Eaton's family friend, Staff Sergeant Christopher Chacksfield, who was murdered in June 2010 in Newcastle upon Tyne, UK. Chris, 31, had come through tours in Iraq, Afghanistan, Kosovo and Bosnia unscathed but was killed in an unprovoked attack as he waited for a taxi with his wife, who had just returned herself from duty in Afghanistan. He left behind his wife and young daughter.
Because Chacksfield had expressed a wish in his lifetime to raise funds for Help for Heroes, Eaton decided to do so on his behalf. As an avid runner, Eaton chose a marathon and asked Princess Cruises for help in an effort to run the first ever marathon at sea.
Eaton started his marathon today at 9 a.m. on a course of just over 600 meters (.37 miles) around the Promenade Deck of Grand Princess, while the ship was sailing near the coast of Portugal. He had to run 70 laps to cover the total distance of 26.2 miles.
Eaton said: "This has probably been my hardest marathon to date but it was for a very special cause and I'm grateful for all the support of the passengers and crew onboard to keep me going. Tonight I'll have a big steak, for the protein to help my body recover, and a glass of wine to celebrate together with my wife, Margaret."
"Everyone at Princess Cruises is very proud that Grand Princess could host the first marathon at sea," said Jan Swartz, Princess Cruises executive vice president. "Our passengers and crew were really behind Steve's attempt and it was wonderful that so many of them came out on deck to cheer him on. Help for Heroes does fantastic work and we hope that Steve's efforts have raised lots of money for this worthwhile charity."
To support Eaton and Help for Heroes please visit http://www.bmycharity.com/princessrunningonwater.
For additional photos, visit the Princess Cruises Facebook page here: http://on.fb.me/permQV
Additional information about Princess Cruises is available through a professional travel agent, by calling 1-800-PRINCESS, or by visiting the company's website at http://www.princess.com.
About Princess Cruises:
One of the best-known names in cruising, Princess Cruises is a global cruise and tour company operating a fleet of 16 modern ships renowned for their innovative design and wide array of choices in dining, entertainment and amenities, all provided in an environment of exceptional customer service. A recognized leader in worldwide cruising, Princess carries 1.3 million passengers each year to destinations around the globe ranging in length from seven to 107 days. The company is part of Carnival Corporation & plc.
Princess Cruises is a proud member of World's Leading Cruise Lines. Our exclusive alliance also includes Carnival Cruise Lines, Holland America, Cunard Line, Costa Cruises and Seabourn. Sharing a passion to please each guest and a commitment to quality and value, World's Leading Cruise Lines inspires people to discover their best vacation experience. Together, we offer a variety of exciting and enriching cruise vacations to the world's most desirable destinations. Visit us at http://www.worldsleadingcruiselines.com.
Find us:
Blog: 50EssentialExperiences.com
Facebook: facebook.com/PrincessCruises
Twitter: twitter.com/PrincessCruises
YouTube: youtube.com/princesscruises
Flickr: flickr.com/photos/princesscruises
Newsroom: princess.com/news
For further information contact:
Karen Candy, kcandy(at)princesscruises(dot)com, 661-753-1540
Julie Benson, jbenson(at)princesscruises(dot)com, 661-753-1530
###