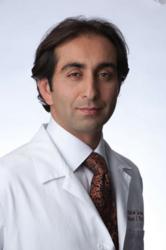 Parathyroidectomy is actually a very easy procedure, and we are able to see an almost immediate drop in the PTH level in the operating room. As early as 72 hours after surgery, most patients feel an improvement in many of their symptoms
Los Angeles (Beverly Hills) , California (PRWEB) September 23, 2011
While many general physicians may find a slight increase in the level of calcium in a patient's blood work insignificant, Dr. Babak Larian's expertise in parathyroid disorders makes him know otherwise. Dr. Larian has found that if a patient's calcium levels are even just a little higher than they should be, it can be a valid indicator of a parathyroid disorder. A slight rise in calcium levels concerns Dr. Larian because the major disease of the parathyroid is hyperparathyroidism, in which the parathyroid creates more of the parathyroid hormone than needed, causing a calcium imbalance.
Calcium is used by every cell and organ in the body to function, and therefore a calcium imbalance can yield a wide range of sings and symptoms. However, the severity of symptoms does not always reflect the level of the rise in calcium. Since the symptoms are so non-specific, many physicians will not appropriately diagnose a parathyroid disorder and patients go untreated. This disease has a slow incessant progression. If the patients' past lab reports are reviewed, one can detect a gradual increase of the calcium level starting in the high normal range and then becoming abnormal and continuing to increase slowly.
Dr. Larian recommends that patients who have slightly increased levels of calcium in their blood to first repeat the test, and if the level is persistently high to see a parathyroid specialist immediately for further examination and diagnosis. If the parathyroid disorder goes untreated, the elevation in calcium will place a heavy burden on the body and has been proven to decrease life expectancy. Additionally, parathyroid disease only gets worse with time, and cannot get better on its own.
Dr. Larian will diagnose a patient with parathyroid disorder after recognizing a combination of signs and symptoms, a key indicator being a persistent increase in blood calcium levels. If a patient has high calcium levels, Dr. Larian will then check the level of parathyroid hormone (PTH). A combination of elevated calcium and PTH levels confirms hyperparathyroidism. Once hyperparathyroidism is confirmed, Dr. Larian orders a Sestamibi parathyroid scan to precisely locate the abnormal parathyroid gland, as well as performing an ultrasound himself in the office.
Unfortunately, there are no drugs that can effectively treat parathyroid disease; surgery is the only successful treatment. Traditionally, parathyroidectomy, surgery to remove the abnormal parathyroid gland, involved a large incision and exploration of both sides of the neck. However, Dr. Larian is an expert parathyroid surgeon who can perform minimally invasive parathyroidectomy procedures via a small incision (less than an inch), as well as intra-operative PTH hormonal assay to ensure a more effective procedure that results in the smallest scar possible.
"Parathyroidectomy is actually a very easy procedure, and we are able to see an almost immediate drop in the PTH level in the operating room. As early as 72 hours after surgery, most patients feel an improvement in many of their symptoms," says Dr. Larian.
Dr. Babak Larian, the Chairman and the Director of the CENTER for Advanced Head & Neck Surgery in Los Angeles, is a highly experienced and reputable, board-certified ear, head and neck surgeon, specializing in ear, nose and throat surgery. Dr. Larian is nationally renowned for his expertise in minimally invasive surgery techniques in the treatment of sinus, thyroid, parathyroid, salivary glands and throat disorders.
For more information about the CENTER please visit http://www.LarianMD.com
###