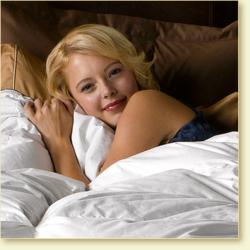 Seattle, WA (PRWEB) September 29, 2011
Pacific Coast®, the leading brand in luxury down bedding, has announced its annual comforter sale. The event, which runs from September 28th- November 1st, features savings of 20% off all comforters, bed bundles and all decorative duvet covers.
"With fall already here and winter fast approaching, we know our customers are preparing for colder, bundle-up weather," says Elizabeth Smith, Director of Online Marketing for Pacific Coast Feather Company. "During our annual comforter sale all Pacific Coast® comforters are 20% off, plus we offer $4.99 shipping and a 30-night comfort guarantee. Our goal is to give our customers warmth and comfort this winter."
The sale features the entire Pacific Coast® comforter assortment; everything from the most popular and awarding winning 300 thread count comforters to the luxurious 500 thread count white goose down comforters. In addition, all Pacific Coast® bed bundles- a down comforter and two down pillows- are also on sale. Every Pacific Coast® comforter is made with Pacific Coast® Barrier Weave® down proof fabric – a tightly woven fabric that is finer, softer and more durable for lasting comfort, and Hyperclean® Pacific Coast® down.
"This year our entire selection of beautiful decorative duvets will also be on sale. We know how important it is for our customers to one-stop shop to complete the look of their bedroom" says Smith.
In closing, Smith jokes, "Going into full hibernation this winter will be hard to resist with new luxurious bedding from Pacific Coast®."
Pacific Coast® Brand Products
For more than 127 years, Pacific Coast® has been dedicated to providing premium down and feather bedding. Our long-standing down and feather expertise and the continuing traditions of quality and craftsmanship established by our founder, produce bedding for a sleep experience like no other.
Pacific Coast Feather Company
Pacific Coast Feather Company is the global leader in the basic bedding industry. Pillows, comforters, mattress pads, feather beds and sheets from the Company offer premium quality, comfort, support and durability. As a family owned business, PCFC remains true to its heritage, following the uncompromising European traditions of craftsmanship established in 1884 by Company founder, Joseph Hanauer.
Media contact:
Mike Fitterer
2065753740
mfitterer(at)portent(dot)com
###