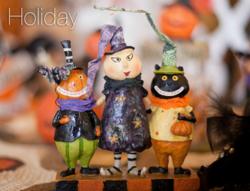 Halloween is one of our favorite holidays and it is just around the corner. Decorate your home with unique, spooky decorations to add to the festive spirit.
Tulsa, Oklahoma (PRWEB) September 23, 2011
The leaves are changing and Halloween is nearing. T.A. Lorton announces a collection of spooky, unique, hard to find Halloween decorations sure to turn your home into a haunted house.
From jeweled skull rings and a black bare brand tree, to handmade, paper mache dolls, owls, and containers, T.A. Lorton has the finest collection of Halloween decorations available for sale online and in their Tulsa, Oklahoma store. Owner Tracy Lorton says, "Halloween is one of my favorite times a year. In addition to creating costumes and getting the candy ready, I love to decorate my house and share a collection of spooky decorations with friends of T.A. Lorton."
View holiday decorations online or visit T.A. Lorton's store in Tulsa, Oklahoma.
T.A. Lorton is an online retailer and home store in Tulsa, Oklahoma specializing in unique treasures. Since 1988, owner Tracy Lorton has created a collection of handmade, whimsical, hard to find objects. Learn more about T.A. Lorton at http://www.talorton.com, visit our store, or shop online.
###