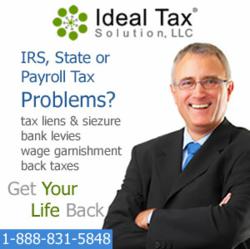 The IRS aggressively enforces unpaid payroll tax resulting in audits, levies, seizures and possible criminal prosecution.
Costa Mesa, CA (PRWEB) September 22, 2011
The declining economy has left many businesses with tax troubles, and in some cases, the IRS has seized assets forcing companies to shut their doors. Ideal Tax Solution advises businesses to avoid making mistakes that would trigger audits and investigations.
"For businesses with employees and independent contractors, we advise against making the top payroll tax mistakes, poor record keeping, not meeting payroll tax requirements, misuse of payroll trust accounts and incorrect classification of workers. The amount of clients with payroll tax problems is at an all time high this year and we expect the numbers to rise significantly in 2012," said Murad Khatib, Marketing Specialist for Ideal Tax Solution.
Ideal Tax Solution suggests businesses keep up on new payroll tax laws by visiting IRS.org regularly and signing up for news and alerts and visiting the IRS business virtual tax workshops to help business owners understand their tax rights and responsibilities. Ideal Tax Solution helps business owners resolve tax problems with the IRS by providing options and professional negotiation.
About the company:
Ideal Tax Solution LLC provides tax negotiation services, preparation and is a collection defense specialist. Their Tax Attorneys, IRS Enrolled Agents, CPA's, Senior Tax Consultants have over 55 years of combined experience working to help American business tax payers with the IRS and State Tax Agencies. Ideal Tax Solution boasts an "A" rating with the Better Business Bureau and is located at 3525 Hyland Avenue, Suite 220, Costa Mesa, CA. Call 1-888-831-5848 for more information.
# # #