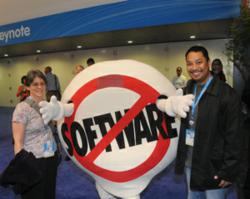 "...the cloud computing event of the year brought a wealth of information to Smartcomm's team members..."
Phoenix, AZ (PRWEB) September 27, 2011
Smartcomm uses Salesforce, a Customer Relationship Management provider, for both its customer and independent representative data base. The Phoenix based company, which identifies opportunities in mobile broadband, continuously looks for ways to stay ahead of the game and improve internal processes to ensure accuracy and efficiency across the board.
Dreamforce is an annual conference that was established nine years ago by Salesforce for its customers. Since then, it has transformed into an international platform of networking opportunities, sessions on a variety of industry topics, keynotes from political, cultural and business leaders, and hands on training.
Representatives from Smartcomm's Leads, Sales, and Operations Departments attended Dreamforce to learn the latest functionality of Salesforce.com and to see how Salesforce can provide the most relevant and valuable tools to further Smartcomm's success.
Diane Langlois, Smartcomm's Database Coordinator said "The Dreamforce conference was extensive! So many people use Salesforce, from small companies like Smartcomm to well known corporations like Google, and even entertainers, like Neil Young." She also noted "It was extremely technology driven and the hands on workshops were very beneficial and discussed topics ranging from business measures to pulling accurate reports, to helping clean up data."
Among the many sessions that Smartcomm's Leads Department Coordinator Michael Recato attended, So Happy Together: Bridging the Gap Between Sales and Marketing discussed the most common challenges companies encounter with Sales and Marketing initiatives and how to overcome them with reports and dashboards. "We are definitely aware of the challenges we face, which is one of the reasons we were happy to attend this conference," Michael said. "There were great speakers and hands on workshops that I feel will get us moving to where we need to be with our company. The dashboards and shortcuts that were introduced will greatly help me and my team."
Liatt Bailey, Smartcomm's Sales Support Coordinator expressed that the Capitalizing on the Most Important Managerial Skill session was "hands down the best session I attended this conference." Mr. Bailey noted that the speaker of this session, Dick Finnegan, had wonderful content and was a fantastic speaker. His session focused on building a strong sales support culture, especially when sales representatives work remotely and don't interface with a daily office staff.
Among many of Dreamforce's impressive speakers were Eric Schmidt of Google, Tim Campos, CIO at Facebook, and Angela Ahrendts, CEO of Burberry. With over 450 workshops, nearly 300 booths on the massive expo floor, and an attendance of 45,000, the cloud computing event of the year brought a wealth of information to Smartcomm's team members to share upon their return and integrate into their work flow.
About Smartcomm, LLC
Phoenix-based Smartcomm, LLC provides consulting services and investment opportunities in the wireless communications industry to both individual and institutional investors. The company specializes in opportunities to acquire 700 MHz, 800 MHz and 1.9 GHz band spectrum through the filing of license applications, participation in FCC public auctions or acquisitions in the secondary market.
# # #