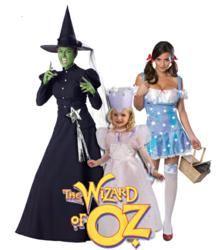 TotallyCostumes.com offers something for everyone with almost 100 different styles in their collection of Wizard of Oz costumes.
Mancos, CO (PRWEB) September 23, 2011
TotallyCostumes.com offers something for everyone with almost 100 different styles in their collection of Wizard of Oz costumes. Fans of the story will find all their favorite Wizard of Oz characters including Dorothy, Cowardly Lion, Scarecrow, Tin Man, Glinda the Good Witch, Elphaba the Wicked Witch of the West, Munchkin, Flying Monkey and the great and powerful Wizard of Oz himself. Sizing for the Wizard of Oz costumes includes newborn, infant, toddler, child, tween, teen, adult and plus sizes. The family dog won't even feel left out of the family fun with their Wizard of Oz dog costumes.
The Wizard of Oz Dorothy Costume will generally include the classic blue and white gingham farm dress with a white blouse and blue hair ribbon. Not only will the consumer find modest styles for both girls and women at TotallyCostumes.com, but they will also find sexy Dorothy costumes for women wanting a more flirty style. They offer a full selection of Wizard of Oz costume accessories to enhance the costume such as a Dorothy wig, petticoat, stockings, basket with plush Toto and Ruby Red Slippers to name a few.
The Cowardly Lion Costume will include lion headpiece with mane and soft jumpsuit with attached tail. The women's and girls' Cowardly Lion costume generally features a plush trim dress with attached tail, matching leg warmers and a lion ears headband. A Badge of Courage can be purchased separately to enhance the Cowardly Lion costume for a unique Wizard of Oz appearance.
The Wizard of Oz Scarecrow Costume will usually include a scarecrow hat with straw hair, shirt, pants and cord belt. The Scarecrow costume for girls and women will have a skirt instead of the pants for a more feminine take on the character. A straw kit can be purchased separately for adding additional detail to the scarecrow look.
The Munchkin Costumes is a great way to add to the Wizard of Oz party or family costume theme. TotallyCostumes.com offers a variety of different styles including the Munchkin Mayor, Munchkin Lollipop Kid, Munckin Girl, Emerald City Guard and an Emerald Witch costume. There are styles and sizes for kids, women and men.
Fans of the Broadway musical Wicked can enjoy the large variety of Wizard of Oz Costumes that TotallyCostumes.com has to offer as well. There are multiple styles available of Elphaba the Wicked Witch of the West and Glinda the Good Witch of the North. The Glinda Costume will include a sparkling pink gown with puff shoulders and a matching crown. The Wicked Witch Costume will feature a long black dress with flowing cape and witch hat. Green cream make-up, witch shoes with buckles and a broom stick can be purchased separately to enhance the look.
About the Company:
TotallyCostumes.com, a leading retailer of costumes and costume accessories for all occasions, makes sure the party never stops! This e-commerce costume retailer believes in carrying a large selection of high quality costumes in all sizes, styles and themes to fulfill any party, costume or event requirement. They have a dynamic team that works together so their customers receive their order quickly. Their friendly customer care team is dedicated to providing their customers with diligent service while their shipping facilities work efficiently in shipping your order out as quickly as possible.
###