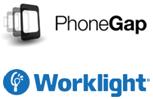 (PRWEB) September 22, 2011
Worklight, the leading HTML5, hybrid and native platform and tools for smartphone and tablet applications, and Nitobi, creator of the popular PhoneGap, the only open source mobile framework that supports six platforms, are hosting a joint webinar on mobile application development in the enterprise.
With over 500,000 downloads, PhoneGap is rapidly becoming one of the most popular mobile app frameworks for cross-platform development. Incorporated into Worklight's award-winning mobile application platform, the technology is now making its mark on enterprise developers and architects deploying both consumer-facing and employee-facing apps for smartphones and tablets.
Join PhoneGap creator Nitobi and Worklight for an in-depth overview of the following topics:

Enterprise Considerations for Mobile App Development
HTML5 as a Foundation for Cross-platform Apps
Mobile Architecture and Infrastructure Challenges
The PhoneGap - Worklight Approach
Lessons Learned and Recommendations
Register now for this webinar at https://www1.gotomeeting.com/register/292575928.
"Beyond the provisioning of the core mobile application functionality, companies now realize they must prioritize security, backend integration, application management and a host of enterprise needs," said Ron Perry, CTO at Worklight. "We are proud to be part of the PhoneGap community and to have the combination of our technologies enable companies to deliver engaging and robust cross-platform mobile apps for organizations, large and small."
"With more mobile devices and constantly evolving needs in the market, comes greater complexity which PhoneGap continues to successfully address," said Steve Gill, PhoneGap Community Champion at Nitobi. "Worklight is further simplifying the process by providing unique enterprise-grade infrastructure and cross-platform app development components to be used by companies with great ease and efficiency."
Webinar: Using PhoneGap for Mobile App Development in the Enterprise
Date: Tuesday, September 27, 2011
Time: 3:30PM EDT | 12:30PM PDT
Register: https://www1.gotomeeting.com/register/292575928
About Nitobi
Nitobi is the creator of PhoneGap (http://www.phonegap.com) an open source development tool for building fast, easy, cross-platform mobile apps with HTML and JavaScript that take advantage of core features in the iPhone, Google Android, Palm, Symbian and BlackBerry SDKs. The open source code has been downloaded more than 500,000 times and thousands of apps built using PhoneGap are available in mobile app stores and directories. For more info, visit http://www.nitobi.com.
About Worklight
Worklight provides open, complete and advanced mobile application platform and tools software for smartphones and tablets. Our award-winning products help organizations of all sizes to efficiently develop and deliver HTML5, hybrid and native applications with a powerful and flexible mobile IDE, next-generation mobile middleware, end-to-end security and integrated management and analytics. Worklight dramatically reduces time to market, cost and complexity while enabling better customer and employee user experiences across more devices. For more info, visit http://www.worklight.com.
###