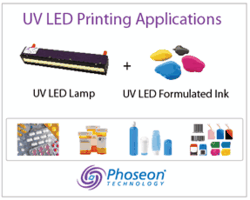 Hillsboro, Oregon (PRWEB) September 26, 2011
Labelexpo 2011, to be held this year in Brussels, Belgium from September 28th to October 1st, shows the worldwide acceptance of UV LED curing solutions in the printing industry. The Phoseon exhibit will display new and exciting products that utilize patented Semiconductor Light Matrix (SLM)™ technology for UV curing.
The following are the digital printing exhibits at Labelexpo 2011 that include Phoseon's technology and products:

Atlantic Zeiser (Hall 11, R95) will show their SMARTCURE LED systems with their new Gamma 70 full-colour inkjet printing module.
CSAT (Hall 9, F10), company of Heidelberg, will show the ITM 6oo - top mount printing module for integration in existing production lines: 2-color DOD w/UV LED curing, as well as CSAT's latest digital print solution - the iTS600 standalone, full color, roll to roll digital label press utilizing 600 dpi DOD imaging technology coupled with UV LED curing as well.
Durst (Hall 9, H57) will exhibit the Tau150 8C, a high speed, eight color single-pass digital UV inkjet printing press, specifically designed for short-run label production.
EFI Jetrion (Hall 9, H55) will run demonstrations of its market leading Jetrion 4830 digital label press with Phoseon's UV LED curing products both in its booth and as the only inkjet solution in Labelexpo's Digital Print Workshop.
INX International Ink Co. (Spartanics Stand, Hall 9, H54) will introduce its new NW140 UV Digital Narrow Web Press, which features Xaar 1001 inkjet print heads and UV LED curing lamps from Phoseon.
Stork Prints (Hall 6, H40) will demonstrate the DSI® digital label printer. This digital printing press produces eye-catching labels with excellent colour strength and brilliance, at speeds up to a remarkable 720m2/hour.
Phoseon builds on the inherent advantage of UV LED technology benefits by maximizing performance, UV energy and reliability. Phoseon's integrated solutions include both air and water cooled products based on patented Semiconductor Light Matrix technology that utilizes proprietary packaging, optics and thermal design.
About Phoseon Technology
Phoseon Technology is a world leader in providing UV LED solutions for commercial and industrial applications. Phoseon's products deliver maximum UV energy, high performance, and real-world reliability for UV LED curing of inks, coatings and adhesives. The Company provides worldwide sales and support capabilities and can be reached at http://www.phoseon.com.
###