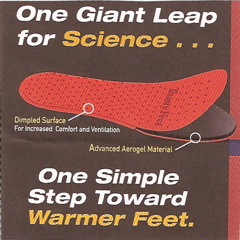 I am amazed! Fabulous item, don't hesitate to order!" Ah…warmth at last!
Toms River, NJ (PRWEB) September 30, 2011
Originals By Weber, Terrance L. Weber, Toms River, NJ announces three immediately available cold weather beaters: Three New Ways To "Winterize" Your Body This Winter -
(1):Feet: Toasty Feet foot warming insoles. They are non-electric, with ultra-thin insulation material made of a NASA developed gel with the lowest density and best insulation qualities of any solid known to man. The material is sufficient to protect astronauts from temperatures as low as minus 200 degrees (F) and is considered the greatest insulating material ever developed. Wearing these readily adjustable NASA insulated insoles in shoes and boots can control and maintain the temperature of feet at approximately 72-degrees (F) at all times - they act as a barrier to whatever surface is under foot - ice or hot pavement. Examples of uses: Football teams, outdoor winter sports spectators, ice fishermen, skiers, snowmobile riders, motorcycle bikers, outdoor linesmen, all kinds of outdoor workers.
Another new product is the Polar Seat Pad, designed to keep the user's bottom much warmer while sitting on those always cold football stadium seats. The Polar Seat Pad can also be used when hunting, ice fishing and camping.
When Weber was asked what kind of feedback he hears from his insoles customers he quoted some comments such as:
" I am amazed! Fabulous item, don't hesitate to order!" Ah…warmth at last!"
(2): Cold Fingers and Toes: Another new invention of Originals By Weber is their TLC (temperature level control)Thermal Wrist And Ankle Wraps (Pat. Pend.) designed to keep hands, fingers, feet and toes comfortably warm at all times. These non-electric Thermal Wraps are made for use by people with cold fingers and toes in physical therapy, those involved in outdoor activities, and they can also be quite helpful to people who suffer with Raynaud's Syndrome. Using the insulation gel designed by NASA, these wrist and ankle wraps effectively maintain the normal temperature of the blood as it flows at about 72-degrees(F) naturally from wrists to hands and fingers, and from ankles to feet and toes.
A customer with Raynaud's Syndrome commented to Weber about his Wraps by saying:
" I think you may have a winner in this one. I put it on and held a cold can of soda in my hand. My "Raynaud's" fingers turned white but did not stay white - as soon as I put the can down the blood started coming back to my fingers and they were normal in just a few seconds - instead of minutes."
(3) Cold Air In Lungs: The new non-electric Cold Weather Breath Warming Mask is designed to eliminate the many dangers of inhaling very cold winter air into the wearer's lungs. With this face mask in place, each breath exhaled passes through a newly patented heat sink device in the mouthpiece of the mask. Then,exhaled air, which was warmed by the body while in the lungs, passes through and warms the built in heat sink. Then, when the wearer inhales the next breath, the outside air is warmed as it flows through the same, now warm, heat sink. Result: no more cold outside winter air in the lungs and the whole body feels and is, much warmer.
Weber said some user comments about the Cold Weather Breath Warming mask are:
"Works great!"
"It works."
Third time buyer: "This time I bought 2 more. Obviously, I'm very satisfied."
(1) Toasty Feet Foot Warmer Insoles price is: $24.95 each pair. S/H fee is $3.60
(2) Weber Wrist/Ankle Wraps are: $29.95 each pair S/H fee is $3.60
(3) Cold Weather Breath Warming Mask is: $39.95 each. S/H fee is $3.60
(4) Polar Seat Pad is $35.99 each plus S/H fee of $3.60
Note: Satisfaction Guaranteed or money back (within 7 days)
For more information or to place an order, call or write: Originals By Weber, 338 Alabama Avenue, Toms River, NJ 08753. Phone: 1-877-309-8382. or 732-864-0353. Complete details and a Video about all three of these new ways to "winterize" the body this winter are available on the Originals By Weber website: http://www.originalsbyweber.com/page/page/3455772.htm
###