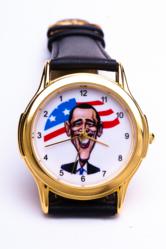 All Three Hands Run Backwards!
Washington D.C. (PRWEB) September 27, 2011
The Worldwide Watch Company, with offices in Washington D.C., has been producing political statement watches for over fifteen years, including the famous Bill Clinton Growing Nose Watch, released during the Monica Lewinsky scandal.
Dubbed the "Clinicchio" watch by the media, it featured a caricature of Bill Clinton and and an animation feature -the nose tripled in length every ten seconds.
Now the Company has introduced the Obama Backwards Running Watch, a statement about the direction of the administration; all three hands actually run backwards. The hourly numbers are printed backwards for accurate timekeeping.
The Obama Backwards Running Watch retails for $29.95. It is being marketed through mail order ads, online at http://www.obamabackwardsrunningwatch.com or by calling 1-800-516-4252.
###