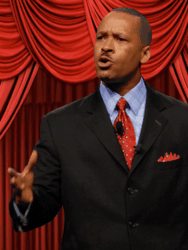 When you don't know what's possible for you, it's easy to give up and walk away during challenging and changing times.
Atlanta, GA (PRWEB) September 26, 2011
On Wednesday Sept 28, 2011, motivational speaker Rene Godefroy, a poor Haitian kid turned one of America's most dynamic speakers, to keynote at the 60th Annual HR Western Conference in Canada. The event will be held at The Sawridge Inn 530 MacKenzie Boulevard, Fort McMyrray, Alberta. Godefroy is excited to visit Wood Buffalo and share his message No Condition Is Permanent.
Godefroy was a frail and sick boy in small village in Haiti. Many people gave up hope he would ever make it to adulthood. Some of his fellow villagers teased him. They called him Kokobay—a Creole word that means crippled. But Godefroy never gave up. However, being invited to inspire a crowd in oil-rich Alberta, Canada was beyond his wildest dreams.
In 1983, Godefroy arrived in the US with one pair of pants, two shirts and five dollars. He was unable to speak any English. Without any resources and connections, Godefroy dared to believe it was possible for him to seize the "American Dream". He washed cars on the streets of Miami for $5 a pop. He worked as a janitor at 163rd mall in Miami. He bought children's books with pictures to learn English.
Eventually Godefroy landed a doorman job in Atlanta, GA. Fourteen years later, he announced he was leaving his doorman position to become a business motivational speaker. Many laughed at him. They thought it was impossible. But Godefroy believed that with a positive attitude, persistence, and by going the extra mile everyday it was possible.
Today, as a motivational speaker and humanitarian, Godefroy is America's #1 authority on inspiring others to discover what's possible for them. His list of clients includes Coca-Cola, AT&T, Aflac, Verizon Wireless, Metro PCS, and many more. "When you don't know what's possible for you, it's easy to give up and walk away during challenging and changing times." Says Godefroy.
It is said that everything about Wood Buffalo is BIG. The namesake, the Wood Buffalo is North America's largest terrestrial animal. They have BIG industries, BIG potentials, and BIG dreams. They also have BIG challenges and an indomitable spirit to face them. Godefroy's fascinating story is the right fit.
His keynote address will be from 9:00 a.m. to 11:00 a.m. For more information about Rene Godefroy, please visit http://www.ReneGodefroy.com or call 778-438-1373 or contact Leisa Douglas at leisa(at)renegodefroy(dot)com.
###