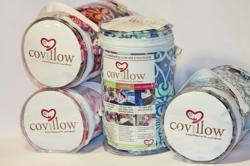 We feel merchandising the Covillow in the retail store will be a huge success for our retail customers and consumers.
Austin, TX (PRWEB) September 23, 2011
Covillow, LLC today announced the retail channel launch of their patented breastfeeding cover and is now accepting wholesale orders. The Covillow combines a nursing cover and pillow into one unique functional and easily transportable breastfeeding accessory, designed to provide a private, comfortable and convenient breastfeeding experience for the mother while placing others around the mother at ease by knowing everything is concealed. The Covillow provides privacy like never before to breastfeeding mothers.
"We are excited to launch our flagship product in the retail channel. It is an exciting opportunity for mothers to have multiple avenues for purchasing the Covillow, and retail allows the customer to see the Covillow in person before making a purchase decision, which is a very important step for expectant mothers when researching products that best meet their needs." Said Mompreneur Candice Boehm, Covillow, LLC Founder and CEO. "We feel merchandising the Covillow in the retail store will be a huge success for our retail customers and consumers."
On August 1, 2011 from Washington, D.C., The Pan American Health Organization (PAHO)/World Health Organization (WHO) published a press release that called for a renewed commitment from all sectors of society to create supportive environments for breastfeeding, including worksites, parks, public transportation, health services and other places outside home where mothers of young children carry out their daily lives. The Covillow, was designed with the intent to specifically address what the PAHO/WHO has recommended, and Covillow, LLC believes its product can be a part of a much broader solution, as the public, consumers, employers, legislators and health care professionals strive to accommodate mothers to reach their personal breastfeeding goals. With retailers placing the Covillow on their shelves, breastfeeding mothers will have a new and unique option that will enhance their confidence to breastfeed in places outside their homes where they typically would feel insecure.
Covillow, LLC was founded and established in 2010 by Candice Boehm, a stay at home mom and breastfeeding mother of two turned entrepreneur. Her passion to help others, experience being a mother of two, along with an undergraduate degree in Marketing from Texas A&M University, and an MBA from Texas A&M-Commerce were critical to what has been a very successful launch of Covillow, LLC. Get more information about signing up to purchase from Covillow, LLC wholesale by emailing your request to wholesale(at)covillow(dot)com and by visiting http://www.covillow.com/wholesale.
This release is for information purposes only and contains forward-looking statements of the company. A variety of factors could cause the company's actual results and experience to differ materially from the anticipated results or their expectations expressed. Additional information regarding those factors is available upon request.
###