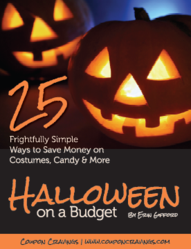 Between swaps, coupon codes and daily deal sites, it's easy to cut back on spending without putting a damper on the fun and festivities of Halloween.
Ashburn, VA (PRWEB) September 28, 2011
Halloween is just around the corner and if you're already starting to see dollar signs, just breathe and grab a free eBook with all the tips and advice you'll need to trim down your Halloween spending without cutting out any of the fun.
"Despite all the costumes, candy and decorations, Halloween does not need to be an expensive holiday," said Erin Gifford, Founder of CouponCravings.com. "Between swaps, coupon codes and daily deal sites, it's easy to cut back on spending without putting a damper on the fun and festivities of Halloween."
Download your free eBook from CouponCravings.com called Halloween on a Budget: 25 Frightfully Simple Ways to Save Money on Costumes, Candy & More. Here's a sampling of money-saving tips from this free eBook.
Swap Costumes: October 8 is National Costume Swap Day so consider swapping or borrowing costumes from friends or neighbors. If you belong to a mother's group or go to a monthly Bunco night, suggest that moms bring costumes for an informal swap before or after the program. Check out GreenHalloween.org for more tips on organizing a costume swap in your neighborhood.
Get on Email Lists: Sign up to receive printable coupons and online coupon codes from party stores and costume shops. Many online costume retailers also give you a coupon code on-the-spot just for getting on their email lists.
Hop on eBay: There's a big selection on eBay, almost too big. A recent search turned up more than 400,000 items related to Halloween. If you have a specific costume in mind, start looking early, and don't forget to save your search and sign up to receive a daily email from eBay when items show up that match your search.
Hit Daily Deal Sites: Last year, Groupon had great deals to get $30 to spend at several online costume stores for only $15. They also had several deals to use at local costume shops, so keep your eyes open. Also, check out children's daily seal sites, like Zulily and Totsy, for costume deals.
Seek Out Coupon Aggregators: Hunt down coupon codes before you do anything else. Savings.com, for example, has a special section just for Halloween coupons, so you'll find coupon codes to save money at various online costume shops all in one place.
Use Cash-Back Sites: Sign up for cash-back sites, like ShopAtHome and Ebates, which give you back a percentage of you purchase. Both offer online coupon codes as well, so you can save a percentage and get back a percentage as cash. It's a win-win.
Thinking ahead to next year, stock up on Halloween decorations and party supplies after Halloween is over to save up to 75% and even more. In the first week after Halloween, you'll find the best bargains and will thank yourself when Halloween comes around next year.
About Coupon Cravings
Coupon Cravings is a money-saving blog dedicated to sharing the smartest grocery, drugstore, restaurant and retail deals, as well as the latest freebies. Coupon Cravings can be found on the web at http://www.couponcravings.com.
# # #