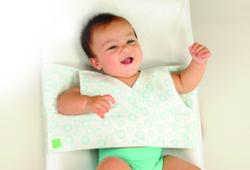 ...faster, easier and safer diapering.
Los Angeles, CA (PRWEB) September 23, 2011
Hulabye LLC, a new company founded by a California mom, will launch its debut product, the Hulabye Happy Changer,TM at the 2011 ABC Kids Expo in Louisville, Kentucky, September 23-26.
Designed by Los Angeles-based physician and mom Erin Kelly, the Happy ChangerTM is the first product to effectively address the challenge of keeping babies on their backs during diaper changes. The patent-pending vest design gently hugs the baby to prevent rolling and scooting, eliminating the struggle that parents and caregivers often face.
"When a baby rolls over for the first time, we celebrate it as an exciting milestone in their development," Kelly said. "But that mobility becomes a serious challenge on the diaper changing table, when your once-cooperative baby turns into a squirming, flipping escape artist."
The Happy ChangerTM works with any contoured changing pad—the most popular style of changing pad on the market—and secures easily around the pad with a single hook and loop attachment. Another hook and loop closure on the vest allows the baby to be secured quickly and easily, with freedom of movement for her arms and legs.
Made of soft, washable fabric, the Happy Changer™ is available in 8 prints and solids to complement any nursery decor. One size fits most babies from 4 to 18 months, so there is no need to size up as baby grows.
More information about the Hulabye Happy Changer™ is available at http://www.hulabye.com.
ABOUT HULABYE
Founded by California physician and mother of two, Erin Kelly, Hulabye LLC is dedicated to making parenting as joyful and hassle-free as possible. The company launched with the debut of the Happy Changer,™ the first product to offer a stylish solution for wiggle-free diaper changes. For more information or to order, visit http://www.hulabye.com.
###