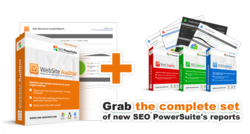 Up-to-the-point, web 2.0-designed and 100% customizable, they are a boon for both SEO agencies and individual webmasters.
Minsk, Belarus (PRWEB) September 28, 2011
Link-Assistant.Com, the major SEO software provider and the company behind SEO PowerSuite, continues its series of beta updates aimed at publicizing the company's forward-looking approach to SEO reporting. Website promoters seem to have gone wild about Link-Assistant.Com's previously released SEO reports for Rank Tracker, LinkAssistant and SEO SpyGlass. The last and the long-awaited SEO reporting update is finally there for WebSite Auditor.
The just-out WebSite Auditor's SEO reports are claimed to be the most convenient representation of SEO issues and deliverables. Up-to-the-point, web 2.0-designed and 100% customizable, they are a boon for both SEO agencies and individual webmasters. SEO agencies get hands on a unique instrument to audit websites and give their clients an easy-to-perceive account for their work. Webmasters, in their turn, get a step-by-step guide of what should exactly be worked on a website to optimize it the right way.
*SEO in a word*
Search engine optimization (SEO) is the expertise of making websites rank high in search engines. SEO is roughly divided into on page and off page components.
*On page SEO*
On page SEO, as opposed to off page optimization, is done directly on the website and includes optimizing content and structural elements of a website to get better search engine rankings.
Webmasters brush up websites with the help of on page SEO tools such as WebSite Auditor. The tool audits each webpage for structural, coding, and other internal defects, and generates smart SEO reports.
*New SEO reports in WebSite Auditor*
WebSite Auditor is now geared up with:

Website Structure Audit Report,
Page Optimization Audit Report,
Page Structure Audit Report,
Search Engine View Report.
More information on the state-of-the-art industry standard SEO reports can be found at http://www.link-assistant.com/blog/new-seo-reports-in-website-auditor/.
WebSite Auditor is one of the four tools in SEO PowerSuite. The SEO software bundle also includes Rank Tracker (rank checking and keyword research tool), SEO SpyGlass (backlink checker) and LinkAssistant (link building tool).
To stay current with SEO PowerSuite updates, visit Link-Assistant.Com's Press Room http://www.link-assistant.com/press/press-release-archive.html.
Defining the world standard for SEO software — About Link-Assistant.Com:
Link-Assistant.Com is a fast-growing software company with a primary focus on developing professional SEO software solutions. Its product line tools integrated in SEO PowerSuite toolkit have set the SEO industry's benchmark for website promotion and link-building solutions that assist thousands of users worldwide.
###