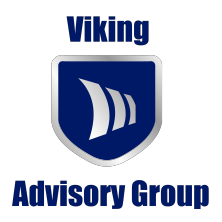 Houston, TX (PRWEB) September 27, 2011
Viking was founded on the belief that there is a real need for a service oriented solutions provider that is able to focus on each organization's unique needs and wants. Sometimes the real issue is just time. Managers are just too busy operating the business to focus on capital raising or strategic issues. Other times, unfamiliarity with the process is a real obstacle. Viking will become an extension of that company providing the support and advice needed to grow or solidify the business. The Viking professionals will provide the framework for growth to businesses that have a foundation for expansion.
Viking Advisory group is dedicated to providing outstanding service. Through expertise and experience each client receives personal and professional attention. Through hard work we have earned the respect of the business community. The Viking reputation reflects the high standards we demand of ourselves.
Areas of Expertise:

Financial Advising
Capital Raise
Audit and Compliance
SEC and Regulatory Filings
Internal Business Controls
Forensic Accounting Services
Real Estate Investment
IPO Readiness
Insurance
Performance Improvements
International Relocation Services
Business Valuations
Business and Marketing Plans
Corporate Governance and Structuring
###