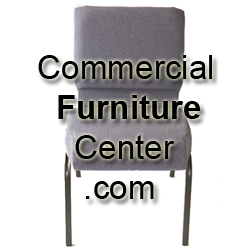 New York, NY (PRWEB) September 28, 2011
Long a trusted supplier of commercial furniture for bars, restaurants and hotels, Commercial Furniture Center, a discount furniture supplier based in New Jersey, is now finding an increase in demand for church furniture including folding chairs and tables and stacking furniture. Though the term church furniture often implies church pews and altars the market has grown to include a wide variety of multi-purpose commercial furniture that can be used for banquets, receptions, church carnivals and pageants. Seeing the rise in demand for such furniture, Commercial Furniture Center is poised to supply churches, houses of worship and parishes with high quality commercial furniture.
Many furniture suppliers have built their success on the restaurant and hospitality industry but churches have recently begun to enter in to the profit margins with a demand for affordable and versatile tables and chairs that can be used for a variety of events that are held in churches including town meetings, school plays, fundraisers, AA meetings and community events. Many communities are being pressed by the economic recession and need to find places for events and churches provide the perfect environment to conduct town hall meetings since most churches feature spacious basements and some cases auditoriums.
Commercial Furniture Center, part of the Sterling Seating enterprise, is more than willing to open its massive inventory to this growing need. Manufacturers and suppliers of high quality, affordable commercial furniture the company features a wide selection of durable and versatile metal and wood folding chairs, resin and wood folding banquet tables and stacking furniture including ballroom chairs and outdoor patio chairs. These sturdy folding and stacking chairs, also known as church chairs and sanctuary seating, have become staples of commercial restaurants and churches because of its versatility and functionality.
In addition to folding and stacking chairs, many churches are also in need of sturdy folding tables for events and meetings. Commercial Furniture Center offers a terrific selection of resin molded, round wood and molded melamine folding tables in a variety of sizes to provide durable surface space for church bingo nights, carnival fundraisers, voter registrations and bake sales. With churches becoming more involved with towns and communities the need for durable all-purpose furniture grows and having a full supply of folding tables and stacking chairs makes the local parish a one-stop spot for many events and gatherings.
Being able to offer high quality, wholesale commercial furniture to churches and other places of worship will give Commercial Furniture Center a new market to capitalize on and the company expects to see continued growth in this sector. As the recession continues to force towns and communities to slash spending many are looking to churches for venues to host events that used to be held in town halls and banquet facilities.
Commercial Furniture Center is a leading online manufacturer and supplier of discount commercial furniture including chairs, tables and booths. Featuring unique designs, modern craftsmanship and wholesale prices Commercial Furniture Center is the preferred furniture supplier for many restaurants, hotels, bars and cafes across the country.
Press Release service provided by Keyword Performance, a leading Search Engine Optimization Company located in Wallingford, CT.
###