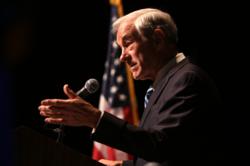 Veto every single bill that violates the 10th Amendment.
Northbrook, IL (PRWEB) September 23, 2011
Rep. Ron Paul was the first to answer the top-rated YouTube video query of Thursday's GOP FOX News-Google Debate in Orlando noted watchers at Revolution PAC. The question dealt with concerns of federal government overreach and its infringement on state and individual rights. Rep. Paul's pointed solution met with hearty applause: "Veto every single bill that violates the 10th Amendment."
The exchange continued with Paul insisting, "There's no authority in the Constitution for them to run our schools, no authority for them to control our economy, no authority for them to control us as individuals or what we do in our personal lives."
Later in the debate, Paul endorsed the idea of education tax credits, in order that "people may opt out of the system" of nationalized public schooling. A poll conducted by debate organizers found that the Department of Education easily tops the list of agencies to cut.
In Congress, Rep. Paul is a co-sponsor of the Enumerated Powers Act, which requires Congress to specify the source of authority under the U.S. Constitution for the enactment of laws. In 12 terms, he has only supported legislation when it is expressly authorized by the Constitution.
Paul is currently polling at 14%, second place, in New Hampshire and is proving to be the most competitive against President Obama in head-to-head matchups.
Revolution PAC is bolstering Ron Paul's consistent, constitutional message with targeted TV advertising campaigns complemented by billboards and radio ads in key primary states. Proceeds will support the airing of game-changing commercials, like "Plastic Men," in the months to come. Unlimited donations by individuals, businesses and organizations are being accepted at http://www.revolutionpac.com.
The Revolution PAC seeks to widen the range of allowable opinion in the public square and to bring to the attention of the American public the neglected alternative of freedom, sound money, self-government, and a non-interventionist foreign policy. This is the answer to the big-government progressives and big-government neoconservatives who have brought our exhausted country to the brink of collapse. Our mission is to support the rare political candidate who defends these great American principles in public life.
# # #