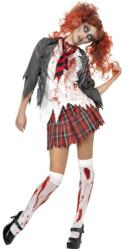 Costume makers have met this demand with a range of new, exciting and incredibly creative zombie outfits this year, including variety of zombies in 'everyday' clothes
Wickford, Essex (PRWEB UK) 25 September 2011
With Halloween rapidly approaching it seem that consumers are voting with their 'zombie' feet this year. Indeed, over the last 3 years costume retailer All Fancy Dress has reported a 4 fold increase in the volume of zombie costumes being sold.
According to Matt Foden, Marketing Manager of All Fancy Dress, there are a number of factors behind this demand for all things 'zombie'. According to Matt, "The last ten years have seen a resurgence in the production of zombie films, including the hilarious 'Shawn of the Dead' through to the remake of the classic 'The Day of the Dead'. Personally I put this zombie renaissance down to a number of cultural factors- volatility in global markets, the emerging threat of international terrorism, and the spread of natural disasters. It seems that whenever the world is in a state of conflict and uncertainly, zombies make a re-appearance- they are a very potent social symbol. And, working in the fancy dress industry, we have seen this increased exposure reflected in a massive increase in demand for zombie costumes and accessories."
Costume makers have met this demand with a range of new, exciting and incredibly creative zombie outfits this year, including variety of zombies in 'everyday' clothes. These include a rather vicious looking Zombie Nurse Costume, and even a Cheerleader Zombie.
According to Matt, "I have no doubt that zombie outfits will be our biggest selling Halloween costumes this year. Whilst there are cultural influences at work, including the emergence of 'zombie walk' groups across the world, it helps that these new zombie costumes just look so cool!"
About All Fancy Dress
http://www.allfancydress.com is one of UK's leading online discount fancy dress retail outlets that supply an extensive range of costumes and accessories. The company has an outstanding reputation for quality of products and excellent customer service, offering fancy dress costumes for all ages and sizes. Their extensive range includes babies, toddlers, childrens, teens, adults, plus sizes and even pets.
Contact Us
You may contact AllFancyDress.com by either email or telephone.
If your enquiry is urgent, please contact us during our regular office hours between 9:00am - 5:00pm, Monday to Friday.
Email: (For order enquiries, bulk purchases or general enquiries) info(at)allfancydress(dot)com.
Tel: +44 (0) 1268 574170
###