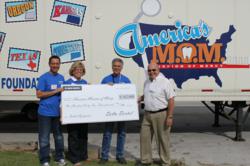 This donation from Delta Dental companies will mean that we are able to purchase the equipment needed to continue providing free dental care to the underserved
Oak Brook, IL (PRWEB) September 26, 2011
Thousands of Americans who are either uninsured or underinsured will be able to get the dental care they need thanks in part to a major donation from Delta Dental. Kim Volk, president and CEO of Delta Dental Plans Association (DDPA), representing the nation's largest network of dental benefits providers, presented a check for $162,000 to the America's Dentists Care Foundation (ADCF), the umbrella organization for America's Mission of Mercy events, for the purchase of portable dental equipment.
"This donation from Delta Dental companies will mean that we are able to purchase the equipment needed to continue providing free dental care to the underserved," said Bruce Bergstrom, executive director of the ADCF. "This donation helps fulfill Delta Dental's core mission, which is to improve the oral health of all Americans," Volk said.
A "Mission of Mercy" is a two-day dental clinic held in a large venue – such as an arena or a convention center – supported by several hundred volunteer dental professionals, staff and laypeople providing free oral health care on a first-come, first-served basis. The first Mission of Mercy event took place in Virginia in 2000 and the events are projected to expand to 22 states in 2012. Since 2000, volunteers have provided dental care to more than 100,000 people at a value of more than $50 million.
America's Dentists Care Foundation was founded in 2008 to oversee the Mission of Mercy events and provide general quality control. The non-profit corporation solicits private donations, registers volunteers and purchases the necessary dental equipment.
Volk presented the check along with David Haynes, president and CEO of Delta Dental of Missouri, and John Gladden, president and CEO of Delta Dental of Oklahoma, while participating in the Missouri Mission of Mercy in Springfield, Mo., a project of the Missouri Dental Association.
About DDPA
Delta Dental Plans Association is comprised of 39 independent Delta Dental member companies operating in all 50 states, the District of Columbia and Puerto Rico. In 2010, Delta Dental member companies donated more than $48 million throughout the country to support programs that focus on preventing dental disease, expanding access to care, advancing dental science and understanding the connections between oral and overall health.
About ADCF
Headquartered in Wichita, Kan., The America's Dentists Care Foundation (http://www.adcfmom.org) is a 501(c)3 non-profit organization dedicated to providing and maintaining all the equipment necessary to put on a "MOM" event. In addition, the organization provides the methods for organizing the volunteers necessary to treat 2,000 patients over a two-day span and the expertise to organize, set-up, run, and tear-down the event.
###