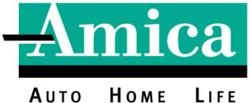 Property protection is crucial for vacation homes that are closed up and left alone during winter
Lincoln, RI (PRWEB) September 23, 2011
The weather is getting cooler and the leaves are changing color, so many people will be closing their summer homes for the season. Amica Insurance reminds everyone to make sure cottages and vacation homes are properly secured to help protect them during the winter months.
"Property protection is crucial for vacation homes that are closed up and left alone during winter," said Julie Rochman, president and CEO of the Insurance Institute for Business & Home Safety (IBHS). "Fortunately, there are several simple things that homeowners can do to prevent water and other hazards from damaging the home and its contents."
Many vacation homes and cottages are located in areas that experience freezing temperatures in the winter, noted Lisa St. Onge, an assistant vice president with Amica Insurance. "This causes the potential for frozen pipes and other headaches for homeowners."
That's why it's important to take the time to make sure your vacation home is properly secured for winter, St. Onge noted. "Preparing your home in advance will save you time and money and make it easier for you to open your home for the summer next year."
Here are a few tips and reminders:

Unplug all appliances.
Drain the water system to prevent pipes from freezing.
Secure windows and doors, inspect for other openings and remove all food to keep out rodents.
Adjust the thermostat. In colder climates, thermostats set at 55 degrees will help to prevent pipes from freezing. In warmer climates, air conditioning should be turned on to prevent humidity damage.
Clean gutters and downspouts.
"Checking these items off your list as you close up for the season can make a huge difference and prevent little things that may be undiscovered or unrepaired for months from becoming much more serious, very costly problems," Rochman said.
Many vacation homeowners don't return until the following summer, so it's also important to make sure your home looks lived in, St. Onge said. Here are a few tips to make your home look occupied:
Put interior and exterior lights on timers or motion detectors.
Stop mail and newspaper service.
Hire someone to clear snow from your driveway.
"Winterizing your home properly – and making sure it looks lived in while you're away – will make coming back in the spring and summer more enjoyable," St. Onge said.
For other tips on preparing your home for winter, visit the Amica Storm Center.
About Amica Mutual Insurance
Amica Mutual Insurance Company, the nation's oldest mutual insurer of automobiles, was founded in 1907. The company, with corporate headquarters in Lincoln, RI, is a national writer of automobile, homeowners, marine and personal umbrella liability insurance. Life coverage is available through Amica Life Insurance Company, a wholly owned subsidiary. Amica employs more than 3,100 people in 40 offices across the country.
CONTACT: Vince Burks, Corporate Communications, 50 Amica Way,
Lincoln, RI 02865-1155, 1-800-652-6422, ext. 24563.
Website: Amica.com
Twitter: Amica Insurance
Facebook: Amica Mutual Insurance Co.
###