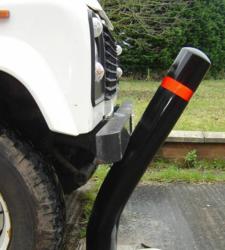 Flexible bollards look like metal, but they can bend up to 90 degrees on impact.
Surrey, British Columbia (PRWEB) September 26, 2011
Reliance Foundry's flexible and bendable bollards are fast becoming popular choices by city planners, designers & landscapers for assistance in traffic management and safety. To address growing traffic control demands, Reliance Foundry is pleased to offer three new options in their flexible bollard product lines.
The new models: R-8351, R-8352, and R-8353 bendable bollards are made of a breakthrough polyurethane material. It is a fully-pigmented, self-finished material that requires almost no maintenance. It is high-impact resistant, making it ideal for use in places where the bollard might be run into by a vehicle at low speed.
These new models are fixed bollards; meaning that they are installed into a footing in the ground and are intended to remain in place at all times. They can withstand an impact that bends them up to 90 degrees and will return to their upright position when the load is removed. This reduces the amount of damage to vehicles that come in contact with the bollard and also removes the need for bollard replacement following an impact.
Cost savings are not the only benefit to using these fixed, flexible bollards from Reliance Foundry. They have visual appeal;

All three of these new models come in 7 standard color options with choices of white, yellow or red reflective striping if desired. Bollards add not only functionality, but can also enhance the aesthetics of the property.
There are protection benefits to be gained as well. Because of their innovative design and materials used, upon first glance, these bollards do not appear to be flexible or bendable. This is an important security feature. By appearing as rigid and strong as their fixed metal bollard counterparts, would-be vandals or criminals are deterred from vehicular ramming of bollards to get at property.
The three new additions to Reliance Foundry's flexible bollards round out an already impressive product line. Reliance Foundry offers several other flexible bollard models that include fixed, flanged or removable mounting options and are made of a composite material with white or yellow reflective stripe options.
Guiding traffic, protecting walls and curbs, keeping cars from pedestrian walkways, perimeter security, and defining traffic patterns are all improved with the use of flexible bollards. Reliance Foundry's new models now makes choosing the right bollard even easier.
###