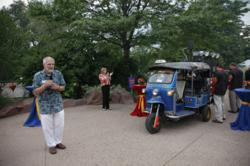 "We are thrilled to receive this honor. It is truly a testament of our employees' long-term commitment to leadership in sustainable business practices."- Denver Zoo President/CEO Craig Piper
Denver, CO (PRWEB) September 23, 2011
Denver Zoo was awarded The Association of Zoos and Aquariums' (AZA) first Green Award, ranking the zoo as the greenest zoo in the country for its outstanding sustainability practices. Denver Zoo President/CEO Craig Piper and Sustainability Coordinator Jennifer Hale accepted the honor at AZA's annual conference in Atlanta, Georgia.
"We are thrilled to receive this honor. It is truly a testament of our employees' long-term commitment to leadership in sustainable business practices. As a conservation organization, it's important for us to operate our organization in alignment with our mission to secure a better world for animals through human understanding," says Craig Piper.
Denver Zoo was recognized at the awards ceremony for leading efforts in sustainability through its Sustainable Management System (SMS). This system provides an institutional-wide frame-work to identify, implement, measure, report and continually improve operations to reduce the zoo's environmental impact. The first zoo in the country to receive ISO 14001 certification for all of its operations, Denver Zoo has been internationally recognized for its sustainable practices. ISO 14001 certification also commits the zoo to the highest environmental standards and requires regular independent outside audits to ensure consistent benchmarking and improvement.
The zoo's staff and culture embraces sustainability. Jennifer Hale, Denver Zoo's Sustainability Coordinator, champions and directs the zoo's efforts, working with all departments, with support from the Workplace Conservation Committee, to manage the zoo's sustainable management plan.
"Winning the Association of Zoos and Aquariums' first Green Award bolsters our belief that we are the greenest zoo in the country," says Sustainability Coordinator Jennifer Hale.
Highlights from the zoo's efforts include:

Development of an innovative waste to energy system in the zoo's upcoming Asian Tropics exhibit that will convert 90% of the zoo's total waste stream into clean energy. Denver Zoo's will reduce its landfill contributions by 1.5 million pounds annually.
Gold Member of the Colorado Department of Public Health & Environment's Environmental
Leadership Program, which exemplifies outstanding commitment to environmentally-friendly business practices.
Denver Zoo has implemented numerous water conservation projects over the last 10 years, including xeriscaping, renovations to the water filtration systems at the sea lions and polar bears exhibits, construction of a water quality wetland and recirculation system at the Flamingo Pond and installation of circulation and filtration system at the Northern Shores Duck Ponds. These projects, as well as operational changes, have reduced overall annual water usage from 1999 by approximately 60% in 2010, a savings of 227 million gallons of water.
Beginning in 2003, Denver Zoo started adding new water lines which incorporate reuse water for horticulture and exhibit maintenance. As exhibits are revitalized, the zoo will expand use of Denver Water's "purple pipe" system. In 2011, we were recognized for our innovative use of reuse water by the Water Reuse Association.
With support from City & County of Denver SEED grant through the Department of Environmental Health, Denver Zoo created environmental Procurement software that provides a method to make sustainable and socially responsible decisions about all of the zoo's purchases to minimize negative effects on the environment, including carbon emissions.
Partnership with Real Food Colorado to support our goals to source local produce and materials for our animal collection food needs.
Energy reduction strategies, through retrofits and upgrades to equipment, with a reduction of 13% from 2008 baseline levels a savings of 1.4 million kWh. Our efforts continue with implementation of further improvements helping us reach our goal to reduce energy use by 30% by 2020.
Denver Zoo provides an RTD Eco Pass as a benefit to employees, promoting an ecologically-sound option for commuting through RTD public transit. The zoo also developed EcoWheels, transportation software, allowing every employee to track his or her commuting methods including Eco Pass use, carpooling, cycling, and walking. It provides metrics for emissions reductions and continually helps improve alternative transportation usage. Incentive programs have increased alternative employee transit by 13 percent.
Denver Zoo encourages the public to recycle e-waste, hosting events to collect used electronics. More than 31,000 pounds of recyclable electronics were collected from members and guests.
Denver Zoo consistently informs the public on grounds and through education outreach programs about environmentally-friendly acts they can perform at home to help protect planet earth and all of its inhabitants.
About Denver Zoo: Denver Zoo is home to 3,800 animals representing more than 650 species and is accredited by the Association of Zoos and Aquariums (AZA). AZA accreditation assures the highest standards of animal care.
A leader in environmental action, Denver Zoo is dedicated to ensuring the safety of the environment in support of all species and is the first U.S. zoo to receive ISO 14001 certification for the entire facility and operations. This international certification ensures the zoo is attaining the highest environmental standards.
Since 1996, Denver Zoo has participated in 557 projects in 57 countries. In 2010 alone, Denver Zoo participated in 92 projects in 22 countries and five continents and more than $1 million in funds was spent by the zoo in support of animal conservation in the field.
###