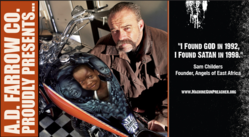 "I found God in 1992, I found Satan in 1998" - Sam Childers Founder, Angels of East Africa
Sunbury, OH (PRWEB) September 23, 2011
A.D. Farrow Co. Harley-Davidson, 7754 St. Rt. 37 E. Sunbury, Ohio 43074, is proud to host the Ohio premiere of Relativity Media's Machine Gun Preacher on Sunday, October 2. Directed by Golden-Globe nominated Marc Forster (Monster's Ball), Machine Gun Preacher features Gerard Butler (300) delivering a searing performance as Sam Childers, the impassioned founder of the Angels of East Africa rescue organization in this moving story of violence and redemption. Events begin at A.D. Farrow Co. The Shop at NorthStar at 10:00 a.m. with a message from Childers and a ride from NorthStar to The Arena Grand Theater, located at 175 West Nationwide Blvd. Columbus Ohio. Each rider's $25 donation will go directly to Childers' Angels of East Africa charity, a children's village for orphans located in South Sudan, dedicated to the rescue, restoration, and enablement of children caught in the crossfire of the Lord's Resistance Army (LRA). At the conclusion of the charity ride, each participant will be invited to attend a free pre-release screening of Machine Gun Preacher.
The road to building the orphanage began a decade ago when Childers came to Sudan on a church mission to aid in removing land mines from the area. Childers saw for the first time the devastation that the unstable political environment produced: an unimaginable epidemic of torture, murder, disease, and starvation..
After a series of trips back to Sudan, Sam's determination and drive to do something to help the children of East Africa was solidified. Childers returned to Sudan several months later to run a mobile clinic. To fulfill his promise he ventured far across the nation, and on the Ugandan border, the impassioned activist built Children's Village, a safe haven that provides dormitories, lavatories, basic medical clinics, a workshop, a library, a small farm and classrooms where the children learn about history, mathematics and language.
As of today, Childers and his staff have built one orphanage, and have two other bases in Uganda where children are sheltered. Childers and his group have rescued over a thousand orphans from enslavement and atrocities. They continue to help children affected by rebel conflict, and most recently extended aid to those plagued by famine in Somalia.
Machine Gun Preacher is the inspirational true story of Childers (Butler), a former drug-dealing criminal who undergoes an astonishing transformation and finds an unexpected calling as the savior of hundreds of kidnapped and orphaned children in East Africa. The explosive, real-life tale of a man who has rescued over a thousand orphans from starvation, disease and enslavement, Machine Gun Preacher is written by Jason Keller (Relativity's Untitled Snow White) and also stars Michelle Monaghan (Source Code), Kathy Baker (Cold Mountain), Madeline Carroll (Mr. Popper's Penguins), Academy Award® nominated Michael Shannon (Revolutionary Road), and Souleymane Sy Savane (Damages). Producing are Forster, alongside Relativity's Robbie Brenner, Safady Entertainment's Gary Safady and Craig Chapman, and GG Filmz's Deborah Giarratana.
Machine Gun Preacher will be released by Relativity Media in New York and Los Angeles on September 23rd and will expand markets in the weeks to follow.
To reserve your spot in the ride and theater, Go to: http://www.adfarrow.com Space is limited for this once in a lifetime experience. (T-Shirt included).
A.D. Farrow Co. Harley- Davidson is America's Oldest Harley Dealer™ and a nine time DealerNews Top 100 Dealer. A.D. Farrow Co. Harley-Davidson family of dealerships has three locations. 7754 St. Rt. 37 E. Sunbury Ohio, 491 West Broad St, Columbus Ohio, and 12477 E. Broad St. Pataskala OH.
# # #