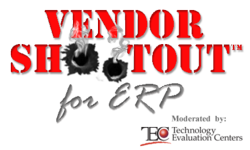 Its a time saver - I learned so much about the different vendors - it has armed me to be a better selector.
Dallas, TX (PRWEB) September 26, 2011
Selecting the right enterprise software has proven to be a growing challenge for organizations across industries. With the average enterprise software purchase and implementation occurring once a decade, companies are faced with critical decisions that could ultimately dictate the success or failure of their enterprise software selection project. The Vendor Shootout™ for ERP, coined the new way to shop for Enterprise Software, has become an invaluable resource for manufacturing and distribution companies looking to upgrade or replace their current enterprise software solution.
This event provides the rare opportunity to see what's available in the marketplace, in one event. Through live, scripted ERP demonstrations from top ERP vendors, companies get an 'apples to apples' comparison of each product, ultimately walking away with a better understanding of which products have the capability of meeting their business needs and requirements.
Moderated by Technology Evaluation Centers (TEC) of Montreal, Canada, the 12th Vendor Shootout™ for ERP is scheduled for October 12-13, 2011 in Dallas, Texas. With record breaking attendance in 2011, the value and benefit companies are experiencing from attending this event is apparent.
By bringing top vendors to one location, organizations benefit from a reduction in travel expenses associated with shoehorning in several vendors for onsite demos. Companies can also benefit from overhead costs savings. With more and more organizations moving to duel-role employees, taking individuals away from their day to day duties, for several day-long onsite demos, can be costly.
Past attendees have achieved over this two day event what would normally take months of organizing and planning. Alleviating the headache of software selection and the challenge of information retention from onsite demos spread over several weeks, this unique approach to software selection is a must for any company with an Enterprise Software project on the horizon.
Contact:
Sonja Hodges, Event Coordinator
Vendor Shootout™ for ERP
1-877-907-2702
info(at)erpshootout(dot)com
http://www.erpshootout.com
###