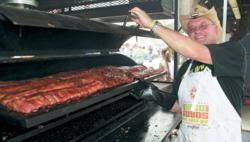 The event itself is very safe, family friendly and a lot of fun.
San Antonio, TX (PRWEB) September 26, 2011
On October 21st and 22nd, Cinco de Guyos will be hosting their Fifth Annual Texas State Championship BBQ Cook-off in Bulverde, TX at the Tejas Rodeo Company. This annual event offers family fun, a friendly competition, great music and even a rodeo to top it all off.
This event had humble beginnings, starting with just 5 teams in a Bulverde backyard in 2007. This year, however, there are 50 teams participating in the cook-off. What started as a way for two friends to settle the most fundamental question…"whose BBQ is better?" has turned into an annual event, grossing over $100,000 for the benefit of charitable community organizations. Perhaps equally important, this event has grown into a highly desirable Texas State Championship BBQ competition that draws teams from Houston, Ft. Worth and all over South Texas.
"The event itself is very safe, family friendly and a lot of fun. There will be great food, the opportunity to participate in judging some of the best competition BBQ of the season, live music, a full rodeo, games, and plenty of kids' activities." says Mike Connor, Cinco de Guyos Co-founder.
The best part of the weekend is that all the net proceeds go to support charitable organizations in our community. This year, the Cinco de Guyos have chosen to support the Warrior & Family Support Center, Boys and Girls Clubs of San Antonio and Ropin Dreams.
As this event grows, the 2011 Meat Me In Bulverde promises to be the most comprehensive Cinco de Guyos has ever hosted. It's quickly become one of the premier annual events that the San Antonio community looks forward to. Tickets are $10 per person and are available at the gate. Directions.
Cinco de Guyos is a Texas Charitable Corporation founded in 2006 as a way to help support underfunded or under-recognized charities in the San Antonio Community, gaining the visibility and ultimately the financial support they need to achieve their goals. Cinco de Guyos partners with other charities to help those charities host fundraising events, build sponsor lists and attract more visibility. They do this through event planning support, exposure to their network of sponsors and philanthropists and by increasing the visibility of the organizations through branding and marketing. Cinco de Guyos also hosts one event per year, the Meat Me In Bulverde BBQ Cook-Off. As Cinco de Guyos grows they'll continue to host and support fundraising events and work with others while living the motto…"putting the fun back in fundraising."
# # #