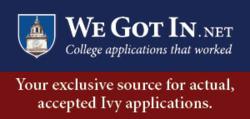 The reaction of Ivy League undergraduates has also been very supportive, allowing WeGotIn.Net to add Harvard, Yale, Penn and Cornell to its database. Mr. Yaruss stated, "We look forward to helping even more students this year."
(PRWEB) September 27, 2011
WeGotIn.Net was started last year to help less advantaged students with their applications to selective colleges. By revealing, for the first time ever, a large number of complete copies of actual, accepted applications to several Ivy League colleges, WeGotIn.Net generated significant controversy and animosity from the professional advisers and others with a vested interest in the current system.
At the outset, WeGotIn.Net was banned from advertising on most major sources of information about colleges, such as College Confidential (which is under common ownership with the Common Application), the Princeton Review and Unigo (see attached for examples). In the case of College Confidential, the ban extended to the censorship of a mere discussion of whether providing copies of accepted applications will help less advantaged students, but not to an anonymous negative comment.
Next, the service was condemned by professional college advisers. Evidently, they viewed their opinions as to what makes a good application as more useful than what in fact makes a good application (as evidenced by the fact that it resulted in an actual acceptance). Their views may be biased by the fact that their services cost thousands of dollars while WeGotIn.Net's services are free to students who cannot afford the modest $24.99 fee.
Finally, WeGotIn.Net's unprecedented attempt to shed light on the one significant component of the college application process that remains shrouded in secrecy was also met with significant hostility from others with a vested interest in the status quo – such as the admissions officers who want to avoid public scrutiny and the privileged who see this as an attempt to level the playing field. For examples of the reaction of college advisers and others, see the discussion at http://chronicle.com/blogs/headcount/for-sale-successful-ivy-league-applications%E2%80%94only-19-99/27560#comment-347.
Nevertheless, Howard Yaruss, the founder of WeGotIn.Net, reported, "The strong positive response to WeGotIn.Net from high school students has been truly gratifying. Sales have exceeded our expectations, a good number of students have requested and received free access to the service and a survey we did of last year's users showed that most viewed the database of applications as 'very useful.'" Many felt that seeing these successful applications showed how the application - the one part of the admissions process over which high school seniors applying to college still have full control - can be used to maximize their chances for admission.
Furthermore, more objective sources, like The Harvard Crimson (http://www.thecrimson.com/article/2010/10/20/admissions-students-service-applications/), The Chronicle of Higher Education (http://chronicle.com/blogs/headcount/for-sale-successful-ivy-league-applications%E2%80%94only-19-99/27560#comment-347) and The Huffington Post (http://www.huffingtonpost.com/2010/10/15/new-site-lets-high-school_n_764272.html) have been more balanced.
The reaction of Ivy League undergraduates has also been very supportive, allowing WeGotIn.Net to add Harvard, Yale, Penn and Cornell to its database. Mr. Yaruss stated, "We look forward to helping even more students this year. We do not aim to replace professional college advisers – we merely offer a much less expensive, and in many cases free, effective alternative."
For more information contact:
Howard Yaruss, Chief Executive Officer
info(at)wegotin(dot)net
212-877-1795
###