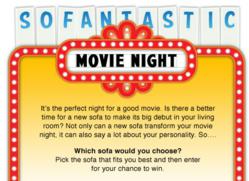 (PRWEB) September 26, 2011
It's Friday and at-home movie watchers are prepping for an evening of epic cinematic proportions. The popcorn is popping, beverages are being served, and all attendees are adorned in their comfiest clothes. The only thing missing? Less than adequate seating. To our fans, the Movie Room sofa can be the most important detail for a perfect movie night in. This is why American Signature Furniture is giving away a free $700 gift card to a lucky film aficionado. Starting September 24th and running through the 30th, fans can enter for a chance to win by selecting which sofa best fits their perfect movie night in.
Movie lovers everywhere can enter the sweepstakes by clicking the custom, "Sofantastic Sweepstakes" tab at http://www.facebook.com/AmericanSignatureFurnitureUSA. Within the tab, fans are asked which American Signature Furniture Living Room sofa they like best. If they want a sofa that will accommodate all the guys for an action-packed saga, soft enough for their inner romantic or simply cozy enough to fall asleep to that film they've seen a dozen times over, there's something everyone will love. By selecting a sofa, fans will discover what their pick says about their movie night style and are instantly entered to win that week's grand prize of a $700 gift card!
Getting friends involved is encouraged, too. American Signature Furniture fans can engage in some friendly competition with their followers across their social networks by sharing their sofa personality and a link to American Signature Furniture's Facebook page. And it's always a good idea to follow @AmSigFurniture on Twitter for updates about Sofantastic September.
Time is running out, so put down the popcorn and hop onto Facebook. The sweepstakes ends soon, so log in and enter for a chance to win.
###