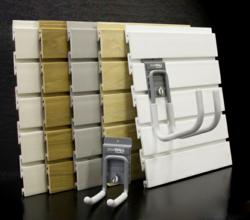 StoreWALL panels are … nearly indestructible and can be configured to match any storage requirement
Milwaukee, WI (PRWEB) September 26, 2011
The new professional.storewall.com has opened the door for industry professionals to take advantage of the storeWALL HeavyDuty product line by providing concise, relevant information. Architects and contractors can spec storeWALL quickly and easily by using the convenient product guides. Also featured is the Organization and Storage section that lists category examples and case histories to give insight into the many ways that storeWALL can enhance any project.
StoreWALL Heavy Duty wall panels and accessories were engineered for industrial and commercial storage applications. StoreWALL HeavyDuty's modular design creates the versatility that allows it to scale to any application. With unique features, storeWALL organization provides a flexible storage solution that can tackle any challenge.
Ideal for any area, storeWALL is waterproof and weather resistant. StoreWALL was designed to last a lifetime of use and abuse. Each modular storeWALL PVC panel is solid core with color molded throughout. This ensures that each panel will look as good after 10 years as it did the day it was installed. The storeWALL wall panels can support up to 100 pounds per square foot while giving the flexibility to be used from the front office to the factory floor.
StoreWALL panels are offered in 5 colors and include a patented hidden installation system. StoreWALL panels are easy to install by one person, nearly indestructible and can be configured to match any storage requirement.
Innovative engineering helped create accessories that can perform even the most demanding task. StoreWALL has developed an accessory for almost any storage need. storeWALL accessories feature superior construction and the finest commercial grade materials were used throughout. Manufactured from industrial gauge cold rolled steel and protected with a soft touch rubber cover, each accessory will support a wide array of items while protecting them from damage. With an industry leading locking mechanism called CamLok; each accessory securely attaches to the wall so that whatever it holds will stay put.
About storeWALL:
StoreWALL is an award-winning wall storage and organization product for home, garage and commercial applications. For more information, visit the storeWALL Professional Web Site or call (866) 889-2502
###