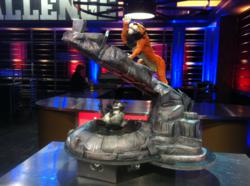 The Lion King characters are very familiar to people, so every detail had to be perfect.
Dallas, TX (PRWEB) September 26, 2011
Bronwen Weber, Frosted Art Bakery & Studio's Executive Chef, was crowned the winner of Food Network Challenge: Lion King Cakes which aired on Sunday, September 25. The win marked her 14th medal from the Food Network Challenges (more than any other contestant), as well as her eighth gold (first place) medal, which is three more than the second best challenger.
As part of the competition, Weber and three other cake designers were challenged with transforming scenes from the Disney classic The Lion King into edible works of art. Weber's design featured the film's villain, Scar, and the hyenas in a dark, scary cave scene, with a bubbling sugar moat under lit by remote controlled LED lights. The cake was another one of Bronwen's signature cantilevered engineering marvels; the laughing hyenas swirled and rotated while sinister smoke enveloped them.
"This was a really fun challenge, and I'm thrilled to win," says Weber. "The Lion King characters are very familiar to people, so every detail had to be perfect."
In addition to the title of champion cake maker, Weber also received $10,000 for her winning creation. The Food Network Challenge will air again, Monday, September 26 at 7:00 PM ET/PT. For more details, visit http://www.foodnetwork.com/food-network-challenge/lion-king-cakes/index.html.
About Bronwen
Chef Bronwen Weber's cake designs and living-out-loud approach to sugar and spice have been published in Brides Magazine, American Cake Decorating Magazine, and England's Cakecraft Magazine, among many others. She has won countless Grand Prize, Gold Medal, and Best of Show distinctions in numerous competitions, including Food Network challenges, the American Culinary Federation, and various cake shows around the country.
About Frosted Art Bakery & Studio
North Texas' home for specialty cakes beyond the imagination, Frosted Art Bakery & Studio is located at 1546 Edison Street, Dallas, TX 75207 (in the Design District). Hours are by appointment only Monday through Friday from 10 a.m. to 4 p.m. and Saturday from 9 a.m. to 1 p.m. To make an appointment, please call (214) 760-8707 or visit http://www.frostedart.com for more information
###