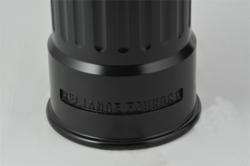 As a designer, when you can provide cohesiveness in architecture, design and functionality, the end result is fabulous.
Vancouver, British Columbia, Canada (PRWEB) September 29, 2011
Reliance Foundry has found a way to improve on one of its more popular, classic iron bollards designs to expand its use to meet the varied needs of a property.
For years the R-7535 bollard has been a recurring bollard choice because of its simple, stylish design elements. Traditionally, this bollard was ready to install right from casting. By adding additional machining after casting, but before coating, this bollard now is now a decorative, fluted architectural post with a smooth, domed top. By adding this additional tooling, the design of this bollard has been expanded to 3 different uses:
1. As a security post cover to fit over a cement or steel security post
2. As a stand-alone bollard for perimeter definition, landscape accent, to protect property features (such a hydrants, utility lines or building corners), or to provide pedestrian direction
3. As a bike parking stand when bike accessories added
For a property that requires any or all of the above - the same bollard style can be incorporated across all needs to provide cohesiveness and integrity of the design. Combining functional architecture with design is a skill, and Reliance has made it that much easier for the outdoor bollard items to meet this need. Especially when it comes to the security posts, which normally are considered more of a necessary (and ugly) element from a designer's point of view. Made of steel or dull grey cement - they rarely add little aesthetic value.
Designer Kristen Wall stated, "As a designer, when you can provide cohesiveness in architecture, design and functionality, the end result is fabulous."
The ability to have decorative elements in security post covers is especially beneficial in restoration projects, where perimeter security often protects valuable artifacts and elements of culture.
Reliance has also added upgraded the base detail and cast rings on two other models for the same reasons. The Reliance model R-7595 bollard has a large ball top; and the model R-7593 bollard is similar, but with a smaller ball top. Both bollard models are produced in ductile iron and can be used as steel bollard post covers or as stand-alone, decorative bollards.
Architects, landscapers and designers have embraced the makeover of the R-7535 bollard and its similarly tooled companions, making this product one of the best-selling bollard items for Reliance.
###