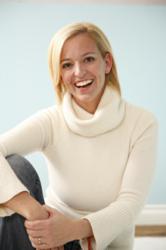 "When you get national recognition like this, it's fun to think we're not this fringe group anymore."
Portland, Oregon (PRWEB) September 24, 2011
Fortune's editors have chosen gDiapers Co-Founder and President Kim Graham-Nye as one of the 2011 Fortune Most Powerful Women Entrepreneurs. Each year Fortune recognizes 10 female entrepreneurs who are extraordinary innovators, game-changers and groundbreakers whose startups generated $1 million to $25 million in annual revenue last year.
The ten female founders will be the guests at the Fortune Most Powerful Women Summit, October 3-5 in Laguna Niguel, California. In addition to networking with Fortune 500 CEOs like Indra Nooyi of PepsiCo (PEP) and Ellen Kullman of DuPont (DD), they'll meet well-known entrepreneurs like Arianna Huffington (AOL), Tyra Banks, Tory Burch, Chelsea Handler—and Warren Buffett too.
The premiere gathering of its kind, the Summit, now in its 13th year, is by invitation only and features a unique format: no speeches, all lively panel discussions, on-stage conversations and interactive breakout sessions.
Kim Graham-Nye is as passionate about babies as she is about the planet. As co-founder and president of gDiapers, the eco-friendly hybrid diaper, Kim combines her love of both into one earth friendly, family-centered company. Graham-Nye launched gDiapers with her husband Jason in 2005 and has been nurturing the company into a growing success ever since. At heart, gDiapers is about people and the planet. Grounded in the Australian expression "fair dinkum," meaning being genuine and real with everyone you encounter, gDiapers applies that philosophy towards business, people and the planet.
Fortune Most Powerful Women Entrepreneurs 2011
. Kimberley Graham-Nye, gDiapers
. Miranda Bouldin, Logicore
. Sue Chen, Nova Medical Products
. Jane Friedman, Open Road Integrated Media
. Jennifer Hyman and Jennifer Fleiss, Rent the Runway
. Dawn Halfaker, Halfaker & Associates
. Clara Shih, Hearsay
. Kara Goldin, Hint Inc.
. Katrina Markoff, Vosges Chocolate
. Demet Mutlu, Trendyol
Press Contact:
Julie Dunn
Julie(at)goodpronline(dot)com
770.310.3565
Read more about the 2011 entrepreneurs in Postcards on Fortune.com
###