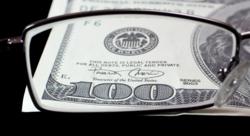 The lifetime savings available from buying eyeglasses on-line are staggering, we are talking $15-20,000 dollars for an average glasses wearing couple.
(PRWEB) September 27, 2011
The last Mintel report on the optical market place referred briefly on some penetration of the glasses market place by web based eyeglasses retailers. However with very few reliable and up-to-date statistics available in relation to the on-line glasses market, SpecsPost commissioned their own study to help them understand the 'big picture' and to allow them to tailor their services to the needs of the glasses wearing consumers worldwide.
With saving on eyeglasses on-line of up to 70% off high street clinics prices, SpecsPost knew that the case would be strong, but even they we were staggered by Kinsley Consulting's calculations. According to Kinsley, a 'typical' glasses wearer in the USA would save an amazing $7,040 over their lifetime if they elected to buy their glasses exclusively via the internet.
The case for Canadian consumers (where local glasses prices are significantly higher) is even stronger with savings roughly double this figure that's a cool C$13,440 or C$26,880 for a couple!
In the UK where SpecsPost was originally established, a couple could expect to save around £9,000 over their life-time if they buy eyeglasses online rather than at the place where they have their eyes tested.
Wherever you are located in the developed world, the case for buying cheap glasses on the net is compelling, at least from a purely price based perspective. However the report found that consumers had very mixed experiences of buying glasses on line depending upon which retailer they used. The report concluded that with some eyeglasses retailers offering complete glasses from just $6 dollars (the price of a meal for two at McDonalds!) there is little wonder that product quality, delivery times and after-care and service are sometimes non-existent. The report summarises that there are some superb saving to be made via on-line from some highly reliable suppliers, but that glasses wearers should not be fixated purely on price; they should also look at shipping times and warranties too to ensure that they make a good choice and that they avoid one of the internet glasses cowboys!
On a fun note, SpecsPost ran a poll to see how customers would like to use the savings afforded by buying glasses on-line if hypothetically they were given a cheque of $26,880 (£17,286) representing the typical lifetime saving for a glasses wearing couple in the US. Responses varied from exotic or romantic vacations of a lifetime, there were several boob jobs, the commissioning of a hit-man for one clients mother in laws (which made the staff laugh), through to the ironic investment in laser eye surgery (which made the SpecsPost staff laugh a little less!)
The full report into the on-line eyeglasses market will shortly be published shortly on Specs Post's website: http://www.specspost.co.uk
Based in London, England, but shipping worldwide, SpecsPost was established in 2009 and has quickly become a market leading mail order eye glasses retailer. As well as the award winning on-line glasses shop, SpecsPost also merchandises prescription eyewear via a number of other channels and provides glasses for the staff at many blue chip corporations.. All SpecsPost's eyeglasses and prescription sunshades come with a 30-day money back guarantee and a 1 year manufacturers warranty on both frames and lenses allowing customers to try and buy with absolute peace of mind and at no risk.
###