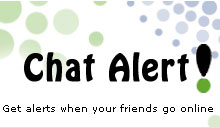 Tired of waiting for friends to go online? Use Chat Alert!
(PRWEB) September 27, 2011
Chat Alert launches a user friendly application on Facebook platform. Chat Alert is a friendly Facebook application that enables Facebook users to track the activity of their Facebook friends. The application monitors the online status of the user's selected friend and sends an instant alert message in a preferred method to the user.
For example, if a user has a friend that is traveling abroad and therefore is not always available for chat and even when they are not available for long. The application checks the online status of their friend and sends an instant message alert when they are available for chat. This way, the user can carry on with their daily lives with no need to worry about their friends.
The Chat Alert application enables receiving notifications by any number of methods preferred by its users, including Facebook inbox, email or SMS messages.
Chat Alert Application Link: http://apps.facebook.com/chatalert
Contact Us:
General Information: info(at)chat-alert (dot)com
Marketing and Business Development: shay(at)chat-alert (dot)com
###