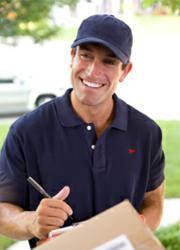 With over one million pickups and deliveries completed and an over 97% on-time rate, Santa Monica Express has set a new standard in quality and efficiency
Los Angeles, CA (PRWEB) September 25, 2011
Santa Monica Express, the leader in expedited and professional Messenger, Courier, Trucking and Cargo services in Southern California is pleased to celebrate 27 years of successfully providing unsurpassed services to businesses and individuals within Los Angeles county and beyond.
Santa Monica Express provides fast, reliable and professional express messenger, courier and trucking services 24 hours a day, seven days a week, 365 days a year. Santa Monica Express also incorporates the latest technologies to provide the most efficient and cost effective messenger and courier services for their clients throughout Southern California. Their friendly and knowledgeable staff places the unconditional satisfaction and peace of mind for their valued clients as top priority.
Santa Monica Express offers a full range of direct, nonstop Courier, Messenger, Package and Cargo delivery and services in Los Angeles, Culver City, Venice, Glendale, Burbank, Encino, Hollywood, Brentwood, Beverly Hills, Century City, Torrance, Pasadena, Valencia, Westlake Village, Chatsworth, including all of Ventura and Orange Counties.
Santa Monica Express' service is a cut above and beyond the rest. With over one million pickups and deliveries completed and an over 97% on-time rate, Santa Monica Express has set a new standard in quality and efficiency when it comes to providing the very best Messenger, Courier and Cargo Services in Los Angeles, San Fernando Valley, Ventura and Orange Counties.
Santa Monica Express offers the following services:
-Express (Direct, Nonstop Pickup & Delivery)
-Regular (Pickup & Delivery within 3-5 hours)
-Standard (Same Day/Economy, Ready by 10:30 a.m. and Delivered by 5 p.m.)
Santa Monica Express has been offering Courier, Messenger, Scheduled Route, Trucking and On-Site Transportation Management & Staffing Services to some of the best companies in Los Angeles County area since 1984—that's over 27 years of unblemished service.
Santa Monica Express, Inc. Service that's first, Integrity that lasts
Call us toll-free at (800) 245-4502
###